Straight to Heaven (eBook)
Jump to navigation
Jump to search
Straight To Heaven

Straight To Heaven Republish eBook Cover,
written by Michelle Scott
Author(s)
Michelle Scott
Series
Lilith Straight
Publisher
Smashwords (Original)
Carina (Republished)
Publication date
May 1, 2012 (Original)
June 1, 2014 (Republished)
Media type
eBook
Length
208 Pages
ISBN
9781472097125
ASIN
B00KDIBWJW
Preceded by
Straight To Hell
Followed by
Straight by the Rules
For other uses of the word Succubus, see Succubus (disambiguation).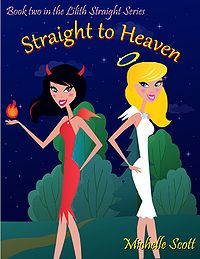 Straight To Heaven is an eBook written by Michelle Scott. It is the second work in the Lilith Straight series by this author. In this work the character Lilith Straight is a Succubus.
Overview
Title: Straight To Heaven
Author: Michelle Scott
Published By: Smashwords (Original), Carina (Republished)
Length: 208 Pages
Format: eBook
ASIN: B00KDIBWJW
ISBN: 9781472097125
Publishing Date: May 1, 2012 (Original), June 1, 2014 (Republished)
Other Works in this Series on SuccuWiki
Plot Summary
Mother, teacher, wanton she-demon
Welcome to my life. I'm Lilith Straight, Hell's newest employee. Although I'm getting pretty good at letting the succubus inside me take over, life in Hell is never easy. Miss Spry is up to her old tricks. She promised to let me save my daughter from my fate, but only if I can tempt my next client.
That's how I end up horns-to-halo with a guardian angel determined to rescue my next victim. To make matters worse, William Benedict, the hottest demon in Hell, is trying to undermine my mission with some temptations of his own…
Nothing is ever what you expect in Hell, but really I should have known that already!
Book Review
At the time of this article's entry in the SuccuWiki, no review was available. Tera has this work on her reading list and will review it shortly.
External Links