Pay-Per-Kill: Book 1 (eBook)
Jump to navigation
Jump to search
Pay-Per-Kill: Book 1

Pay-Per-Kill: Book 1 eBook Cover,
written by Eliza Hendrix
Author(s)
Eliza Hendrix
Series
Pay-Per-Kill
Publisher
Smashwords, Erol Tarlabolen
Publication date
November 21, 2020 (Original)
February 28, 2021 (Reissue)
May 6, 2021 (Reissue)
Media type
eBook
Length
22 Pages
ASIN
B08WCGT16X (Original)
B08XQQCG2Y (Reissue)
B094DQ72Z3 (Reissue)
Followed by
Mortal Blow
For other uses of the word Succubus, see Succubus (disambiguation).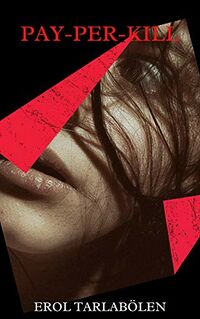 Pay-Per-Kill: Book 1 is an eBook written by Eliza Hendrix, later reissued under the author name Erol Tarlabölen, then reissued under the author name Merrill Mindyard as Per Kill Payment. It was to be the first work in the Pay-Per-Kill series by this author. The series was replaced by the Succubus Hitwoman series and not continued. In this work the character Alexis Rayne is a Succubus.
Overview
Title: Pay-Per-Kill: Book 1
Author: Eliza Hendrix
Published By: Smashwords & Erol Tarlabölen
Length: 22 Pages
Format: eBook
ASIN: B08WCGT16X (Original), B08XQQCG2Y (Reissue), B094DQ72Z3 (Reissue)
Publishing Date: November 21, 2020 (Original), February 28, 2021 (Reissue), May 6, 2021(Reissue)
Plot Summary
After spending thirty years in New York City, thousand-year-old succubus Alexis Rayne figures it's time for an identity change. With her new curves and her slick blond hair, Alexis sets out to rebuild her career from the ground up as a hired hitwoman.
Her target: some unknown drug dealer. Her payout: crappy.
But this is the trade-off for a quiet life in a small town. If she wants to make a name for herself, Alexis is going to have to prove her worth without pissing off the vampires. And once she finds her mark, she'll finish him off… in more ways than one.
Book Review
At the time of this article's entry in the SuccuWiki, no review was available. Tera has this work on her reading list and will review it shortly.
External Links