Jewish Magic and Superstition: A Study in Folk Religion
Jump to navigation
Jump to search
Jewish Magic and Superstition: A Study in Folk Religion



Jewish Magic and Superstition: A Study in Folk Religion Book Cover, written by Joshua Trachtenberg

Author(s)
Joshua Trachtenberg
Publisher
Forgotten Books
Publication date
February 7, 2008
Media type
Paperback
Length
382 Pages
ISBN
978-1605067599
For other uses of the word Succubus, see Succubus (disambiguation).

Jewish Magic and Superstition: A Study in Folk Religion is a book written by Joshua Trachtenberg.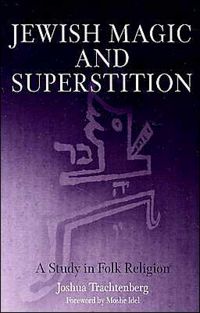 Overview
Title: Jewish Magic and Superstition: A Study in Folk Religion
Author: Joshua Trachtenberg
Published By: Forgotten Books
Length: 382 Pages
Format: Paperback
ISBN-10: 1605067598
ISBN-13: 978-1605067599
Publishing Date: February 7, 2008
Plot Summary
In the background of what has become known as ceremonial magic is medieval Jewish magic. In turn this was based on the Kabbalah, the Jewish traditions known as Haggadah, and other esoteric beliefs. This is a comprehensive review of Jewish magic from the 10th to the 15th century, including a rich lode of folklore. Many well-known Jewish traditions are explained, such as why a glass is broken at a wedding, and how the expression mazel tov is related to a belief in Astrology. Trachtenberg deals extensively with Golems, Succubi, the Lillim, (from Lilith--Adam's first wife), and other magical creatures, some well known such as werewolves, and others not so well, such as estrie, mare and broxa. There are detailed descriptions of talismans, amulets, charms, and other curious magical objects. There are chapters dealing with dream interpretation, medical beliefs, necromancy, and other forms of divination. There is also a short glossary, so if you are having trouble telling the difference between a Kaddish and a Kiddush, you're in luck.
Book Review
The following review can be found in the External Links below:
3 out of 5 stars
Good high level review, lack of flesh and details.
Reviewed On: July 28, 2004
Reviewed By: Uri Raz
This is an excellent introduction to the subject of Judaism and magic & superstition.
It covers broad territory - powers of good & evil, demons, holy names, medicine, amulets, divination, dreams, and more - and supplies an extensive bibliography for those interested to continue studying any of the subjects in the book.
What I didn't find in the book is details or flesh - the book has a lot of breadth, but just scratches the surface on each of the subjects. Also, the book gives details about the customs of German Jews at specific centuries, but rarely mentions customs of, say, Jews from Islamic countries.
So if you're looking for an introduction, this is the book for you. If you're looking for depth, I suggest books such as Aryeh Kaplan's.
External Links