Feeder (eBook)
Jump to navigation
Jump to search
Feeder



Feeder Book Cover, written by Lucinda Moebius

Author(s)
Lucinda Moebius
Series
Chronicles of the Soul Eaters
Publisher
Amazon Digital Services
Lucinda Moebius
Publication date
February 27, 2014
Media type
eBook
Paperback
Length
205 Pages
ISBN
978-0615968322
ASIN
B00IPL67A8
Followed by
Hunter
For other uses of the word Succubus, see Succubus (disambiguation).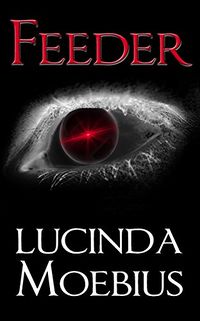 Feeder is an eBook written by Lucinda Moebius. It is the first work in the Chronicles of the Soul Eaters series by this author. In this work Succubi appear.
Overview
Title: Feeder
Author: Lucinda Moebius
Published By: Amazon Digital Services & Lucinda Moebius
Length: 205 Pages
Format: eBook & Paperback
ASIN: B00IPL67A8
ISBN-10: 0615968325
ISBN-13: 978-0615968322
Publishing Date: February 27, 2014
Other Works in this Series on SuccuWiki
Plot Summary
Feeder Monster. Shape Shifter. Succubus. Vampyre. Maria Christine lives life at the fringes of society as one of the Were, beings from which legends have been born.
Hunted. By other Were to strengthen their Covens. By those with great power to further their own agendas. By those who would wipe the scourge of her race and her own special kind of evil from the earth. By the warrior who must kill her to fulfill his destiny, but wants to protect her instead. Will she stand beside the Warrior or fight against him? Does she join a Coven and become part of a great army or strike out on her own and take her chances with those who would kill her? Only one thing is assured; the hunger and the need to feed.
Book Review
At the time of this article's entry in the SuccuWiki, no review was available. Tera has this work on her reading list and will review it shortly.
External Links