Zoie Palmer
Jump to navigation
Jump to search
Zoie Palmer

Born



England

October 28, 1977
Nationality
English
Occupation
Actress
Years active
2002 – present
Known for
Playing Dr. Lauren Lewis on Lost Girl
Zoie Palmer (born October 28, 1977) is a Canadian actress,[1] best known for playing the role of Dr. Lauren Lewis in the Canadian television series Lost Girl.
Born in Wiltshire, England, of British and Irish parents, Zoie Palmer moved with her family to Canada at the age of 9. She went to high school in Newmarket, Ontario at Sacred Heart Catholic High School, and earned her Bachelor of Fine Arts at York University in Toronto, Canada.
Zoie Palmer has previously appeared in The Guard as Carly Greig, a rescue specialist who grew up on a fishing boat, and had a recurring guest role as Patsy Sewer in Instant Star. Other film and television appearances include the TV movie The Reagans as Patti Reagan, and as a woman coming to terms with cancer in Terminal Venus. She was awarded Best Actor at the Baja California Film Festival for the latter role. Palmer also guest starred in the CW drama Nikita in the episode "Girl's Best Friend" as Anya, a terrorist who tries to disrupt a peace summit, and the Canadian television show Call Me Fitz as Laura, an unhinged amputee with plans to start an escort service for disabled people.
She appears in the 2010 Canadian film The Untitled Work Of Paul Shepard with Kris Holden-Ried, one of her co-stars in the TV series Lost Girl. She received an ACTRA nomination for her role in this film. She is currently filming for the Canadian film "Sex After Kids" in which she stars with two of her Lost Girl Co-stars Kris Holden-Ried and Paul Amos.
Role on Lost Girl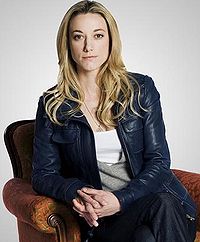 She plays the role of Lauren Lewis, a human doctor who works for The Ash in the series. Through the series, she has become intimately involved with Bo. It was revealed in the second season that she had a girlfriend named Nadia who, through a curse, was the reason for Lauren being involved with the Fae. In the Third Season, it was revealed that Lauren's real name was Karen Beattie, she was wanted for terrorism, and she separated from the Light Fae when she was deceived by Doctor Issac Taft. In the Fourth Season, Lauren was on the run from the Una Mens who saw her as a threat.
Filmography
Film

| Year | Title | Role | Notes |
| --- | --- | --- | --- |
| 2003 | Bar Life | Ryan | Short film |
| 2003 | Terminal Venus | Annabelle | Short film |
| 2004 | Godsend | Susan Pierce | |
| 2006 | Snapshots for Henry | Angie | Short film |
| 2010 | The Untitled Work of Paul Shepard | Hayley | |
| 2010 | Devil | Cheryl | |
| 2011 | Cold Blooded | Frances Jane | |
| 2013 | Sex After Kids | Lou | |
Television

| Year | Title | Role | Notes |
| --- | --- | --- | --- |
| 2002 | Odyssey 5 | Researcher | Episode: "Skin" |
| 2002 | The Scream Team | Rebecca Kull | TV movie |
| 2003 | Adventure Inc. | Luisa | Episode: "Plaque Ship of Val Verde" |
| 2003 | Out of the Ashes | Didi Goldstein | TV movie |
| 2003 | The Reagans | Patti Reagan | TV movie |
| 2004 | Bliss | Donna | Episode: "Badness" |
| 2004 | Missing | Tracy Somers | Episode: "Mr. Nobody" |
| 2004 | Doc | Tracey Briant | Episode: "The Family Tree" |
| 2005 | Devil's Perch | Abby | TV movie |
| 2005 | Martha Behind Bars | Amy | TV movie |
| 2006 | Gospel of Deceit | Tracy Duggins | TV movie |
| 2006-2007 | Instant Star | Patsy Sewer | 12 episodes |
| 2008-2009 | The Guard | Carly Greig | 22 episodes |
| 2010 | Bloodletting & Miraculous Cures | Female Cop | Episode: "Unhappy Endings" |
| 2010 | Murdoch Mysteries | Katie Powers | Episode: "Victor, Victorian" |
| 2011 | Degrassi: The Next Generation | Officer | Episode: "Jesus, Etc.: Part 2" |
| 2011 | XIII: The Series | Moira | Episode: "The Irish Version" |
| 2011 | King | Angela Gilbert | Episode: "Lori Gilbert" |
| 2011 | Nikita | Anya Vimer | Episode: "Girl's Best Friend" |
| 2011 | Call Me Fitz | Laura | Episode: "Don of the Differently Abled" |
| 2010–Present | Lost Girl | Lauren Lewis | Supporting Lead Cast |
| 2012 | The Listener | Staff Sgt McCoy | Season 3 Episode 13: "The Shooting" |
References
External links