Zoey Rogue (eBook)
Jump to navigation
Jump to search
Zoey Rogue

Zoey Rogue Original eBook Cover,
written by Lizzy Ford
Author(s)
Lizzy Ford
Series
Incubatti
Publisher
Evatopia Press (Original)
Captured Press (Reissue)
Publication date
May 8, 2013 (Original)
February 2, 2017 (Reissue)
Media type
eBook
Paperback
Length
359 Pages
ISBN
978-1623780814 (Paperback)
9781623783136 (Reissue eBook)
ASIN
B00CPGJG0C (Original eBook)
B01MYFA5WY (Reissue eBook)
Followed by
Zoey Avenger
For other uses of the word Succubus, see Succubus (disambiguation).
For other uses of the word Incubus, see Incubus (disambiguation).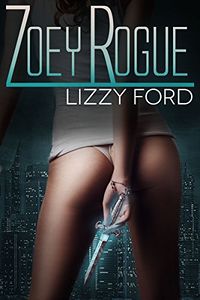 Zoey Rogue is a novel written by Lizzy Ford. It the first work in the Incubatti series by this author. In this work the character Zoey is a Succubus and the character Declan is an Incubus, the two being part of a society of Succubi and Incubi.
Overview
Title: Zoey Rogue
Author: Lizzy Ford
Published By: Evatopia Press (Original), Captured Press (Reissue)
Length: 375 Pages
Format: eBook & Paperback
ASIN: B00CPGJG0C (eBook), B01MYFA5WY (Reissue eBook)
ISBN-10: 1623780810 (Paperback)
ISBN-13: 978-1623780814 (Paperback)
ISBN: 9781623783136 (Reissue eBook)
Publishing Date: May 8, 2013 (Original), February 2, 2017 (Reissue)
Other Works in this Series on SuccuWiki
Plot Summary
He only needs three nights to make her his …
With more heart than sense, fearless, beautiful Zoey has saved countless college-aged women from horrifying deaths at the hands of supernatural sadists. She may be a mere half-succubus in a society that views half-breeds with derision, but she still retains the highest rescue rate of any Hunter in the Sucubatti society.
As the calm, disciplined leader of the Incubatti Enforcers, Declan is the polar opposite of Zoey – and the sworn enemy of her society. Forced to rescue her one night, Declan realizes two things: he doesn't need someone as wild and independent as Zoey in his life – and he can't live without her.
In this world, there's only one Incubus for every Sucubatti and Zoey and Declan are stuck with each other. They're just as likely to kill each other as they are to yield to each other's sex magic.
She has authority issues and drinks too much. He is the irresistibly sexy Incubus pre-ordained to tame her. Neither can fight their intense attraction, and yet trusting each other is out of the question.
What happens when their worlds crash down around them?
Strike three. You're mine.
Book Review
At the time of this article's entry in the SuccuWiki, no review was available. Tera has this work on her reading list and will review it shortly.
External Links