Wild Angels (eBook)
Jump to navigation
Jump to search
Wild Angels

Wild Angels eBook Cover,
written by May Dawson
Author(s)
May Dawson
Series
Lilith and her Harem
Publisher
Amazon Digital Services
Publication date
November 15, 2017
Media type
eBook
Length
310 Pages
ASIN
B077J9KQ9L
Followed by
Fierce Angels
For other uses of the word Succubus, see Succubus (disambiguation).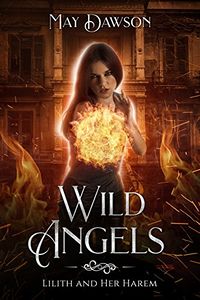 Wild Angels is an eBook written by May Dawson. It is the first work in the Lilith and her Harem series by this author. In this work the character Ellis has aspects of a Succubus in her character.
Overview
Title: Wild Angels
Author: May Dawson
Published By: Amazon Digital Services
Length: 310 Pages
Format: eBook
ASIN: B077J9KQ9L
Publishing Date: November 15, 2017
Other Works in this Series on SuccuWiki
Plot Summary
Ever since Ellis lost her twin, Ash, in a car crash, she's suffered terrible nightmares. She sees Ash in a strange and mystical land, running for her life. But from who? Or what? And when Ellis wakes from her dreams, it's often to a world on fire. Ellis is only days from her eighteenth birthday when firefighters storm into her house to put out the flames. Her mother surrenders her to a reform school for mutants like her. It's a class of three, locked away in a haunted asylum. They are meant to battle the dead as well as their own demons.
Book Review
At the time of this article's entry in the SuccuWiki, no review was available. Tera has this work on her reading list and will review it shortly.
External Links