Up In Flames
Jump to navigation
Jump to search
Up In Flames



Up In Flames Book Cover, written by Raven Watts

Author(s)
Raven Watts
Publisher
CreateSpace
Publication date
November 17, 2009
Media type
Paperback
Length
174 Pages
ISBN
978-1449580612
Followed by
As The Smoke Clears
For other uses of the word Succubus, see Succubus (disambiguation).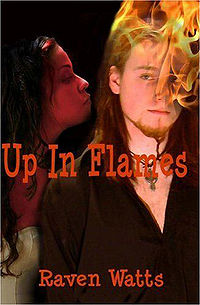 Up In Flames is a novel written by Raven Watts. It is described as being the first novel in the Equinox book series by this author. In this work appears a succubus named Kitty who is a major character in the series.
Overview
Title: Up In Flames
Author: Raven Watts
Published By: CreateSpace
Length: 174 Pages
Format: Paperback
ISBN-10: 1449580610
ISBN-13: 978-1449580612
Publishing Date: November 17, 2009
Other Works in this Series on SuccuWiki
Plot Summary
Kitty is a hundred and fifty year old succubus, and she has a problem. Several, really, first there is the relationship she really can't have. Then there is the new understanding of her existence. Is she feeding from the Transcended or killing them off? Oh, and the murdering psycho that is killing girls that look like her!
Enter the more sensual side of life and follow Kitty as she tries to maintain her non-human ways, while at the same time embracing humanity and all that comes with it. A nice job, a home and even a relationship, can Kitty really turn her back on her nature to save the humans? At the same time she is finding herself becoming a Transcendent, now hunted by her own kind. Can she handle all this while saving her own race from extinction?
Book Review
At the time of this article's entry in the SuccuWiki, no review was available. Tera has this work on her reading list and will review it shortly.
External Links