Transformation Station (eBook)
Jump to navigation
Jump to search
Transformation Station

Transformation Station eBook Cover,
written by Janet Graceland
Author(s)
Janet Graceland
Publisher
Amazon Digital Services
Publication date
August 7, 2020 (Original)
November 29, 2020 (Reissue)
Media type
eBook
Length
14 Pages
ASIN
B08FGBMQRX (Original)
B08PBXK9V5 (Reissue)
For other uses of the word Succubus, see Succubus (disambiguation).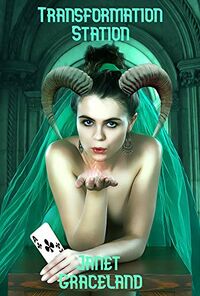 Transformation Station is an eBook written by Janet Graceland. In this work the character James is transformed into being a Succubus.
Overview
Title: Transformation Station
Author: Janet Graceland
Published By: Amazon Digital Services
Length: 14 Pages
Format: eBook
ASIN: B08FGBMQRX (Original), B08PBXK9V5 (Reissue)
Publishing Date: August 7, 2020 (Original), November 29, 2020 (Reissue)
Plot Summary
Twenty-one-year-old James has just graduated college. Now with a life changing decision to either move away from the only place he's ever called home and on to bigger and better things, he must choose what's best for himself. But one day, he stumbles across a new building in town called Transformation Station. Entering it, he soon finds himself ensnared in a game of chance with Sahara, a woman who claims to be a goddess, and who desires James for her own grand designs.
What follows next is a series of adventures in sex and lust, where the impossible becomes possible. Transformation Station is a 5,100 words long erotic gender bender short story that includes gay, lesbian and bisexual sex, rubber, inflation, and more.
Book Review
At the time of this article's entry in the SuccuWiki, no review was available. Tera has this work on her reading list and will review it shortly.
External Links