The Warlock and His Succubus (eBook)
Jump to navigation
Jump to search
The Warlock & His Succubus

The Warlock & His Succubus eBook Cover,
written by Nicarea Stone
Author(s)
Nicarea Stone
Publisher
Amazon Digital Services
Publication date
October 29, 2015
December 31, 2015 (Reissue)
October 11, 2016 (Reissue)
Media type
eBook
Length
120 Pages
ASIN
B01MCS0T0M
For other uses of the word Succubus, see Succubus (disambiguation).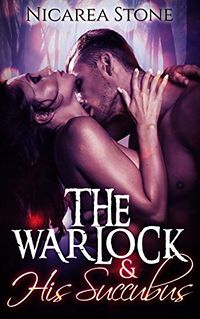 The Warlock & His Succubus is an eBook written by Nicarea Stone. In this work the character Fiona is a Succubus.
Overview
Title: The Warlock & His Succubus
Author: Nicarea Stone
Published By: Amazon Digital Services
Length: 120 Pages
Format: eBook
ASIN: B01MCS0T0M
Publishing Date: October 29, 2015, December 31, 2015 (Reissue), October 11, 2016 (Reissue)
Plot Summary
Cory is a real loser for a Warlock. But things finally start to look up when he finally cast his first successful spell and summons a sexy succubus to his bedroom.
Book Review
The following review was originally published by Tera on her Blog, A Succubi's Tale on April 26, 2016

Cory has no luck being a Warlock, not even being able to cast the simplest of spells. A final effort brings Fiona into his life and she isn't what he expected. He expected an Imp at best and found himself with a Succubus. But Fiona isn't the typical Succubus. Neither is Cory the typical Warlock either.
This is really a wonderfully fun, caring, and yes, a little bit awkward, story about two lost souls finding one another. It isn't erotica so much as it is a coming of age story for both Cory and Fiona and in that unfolds possibly one of the most wonderful, heartwarming stories I have read in some time.
The world building is well done, Cory is a well written character with emotion, thought, and he isn't stereotypical. By that I mean he acts honourably, he cares about Fiona and that comes out clearly in his character. It is clear from the first moment that Cory isn't going to be any old run of the mill Warlock, he's going to be something special. That takes Fiona's appearance to come to the fore.
Fiona is innocent, adorable, loving, passionate and she isn't what Succubi are supposed to be, at least from what Cory has read. There's no real feeling of this being an act on Fiona's part and when the reason for why things happened as they did, it isn't a stupid or impossible reason all things considered.
While there is some passion in the work, the love between the two characters that comes out really makes the need for erotica nonexistent. The point of the story isn't the sex, really there's only one little whisper of that to be seen. It is about the two characters feeling their way through a relationship and where that takes them.
There is a moment where things change for them both, but it also opens a fascinating turn in the story and one that I think closes things off in the best possible way. Beyond that, reading of Cory's actions in protecting Fiona, what he is will to do for her, how Fiona feels about him, sets up that turn, but also the resolution that works perfectly.
The work closes in a rather quick fashion once the crisis is past and I was a little disappointed in that. How things were playing out I was expecting a part two, or three, or more. But the crisis makes Cory take a chance, and once that is done there's simply no turning back from it. The ending is, if short, satisfying in it brings Cory full circle and in doing so, tells his own truth well.
Well written, the work stands on its story, its characters and the need to tell that tale is there. It is short, which is a little sad as I was hoping for more. I also was hoping for this to become a series, but the work ends in a way that makes this a stand alone. Really one of my personal favourites of the year. I just wish that the author had taken the chance to take things from the beginning to what comes next rather than skip to the ending as they did.
Four out of five pitchforks.
A simply adored this story, really one of the most lovely, warm, passionate and caring works I have read this year. The ending was rushed yes, I wish there this was a series absolutely. it's so nice to find a story about Succubi that give them a chance to be more than they are supposed to be.
External Links