The Taunting
Jump to navigation
Jump to search
The Taunting



The Taunting DVD Front Cover

Directed by
Zenova Braeden
Starring
Katja Kassin
Kaiya Lynn
Kitty
Daphine Rosen
Studio
Spice Studios
Distributed by
Spice Studios
Release

date(s)

September 24, 2007
For other uses of the word Succubus, see Succubus (disambiguation).

The Taunting is a 2006 produced and 2007 released to video adult movie staring Katja Kassin and directed by Zenova Braeden.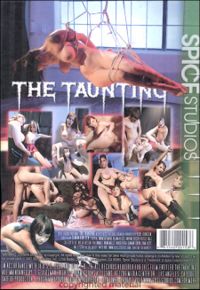 Overview
Movie Title: The Taunting
Director: Zenova Braeden
Studio: Spice Studios
Release Date: September 24, 2007
MPAA Rating: XXX - Sexual Content and Language
Genre: Horror, Erotica, Feature
Tagline: What Sex Hath Wrought
Cast
Name
Katja Kassin
Kaiya Lynn
Kitty
Daphine Rosen
Anna Mills
Regan Reese
Cassidy Blew
Giana
Lystra
Amanda Emino
Plot Summary
An abandoned monastery in the college town of Golgotha, steeped in myths about sexual rituals and orgies piques the curiosity of two college students who decide to investigate the cursed grounds in search of the "succubus spirit" said to walk its halls even to this day. What the couple experiences twists their sense of reality and ensnares them in a world of supernatural sex, sin and total abandon as they are taunted by what can only be described as the unholy embodiment of pure lust itself.
Movie Review
The following review is taken from the Horror Movies.ca website in the External Links below:
The Taunting Movie Review
Written by: Goon
Horror has become so big that it seems like it has penetrated (forgive the pun) almost every facet of media. Everybody has seemed to jump on the bandwagon and is trying to do something within the horror genre. It wasn't until very recently that porn industry decided they should try and capitalize on the fast growing horror fanbase. The Taunting is really just that. A film that seemingly assumes that horror fans are only into S&M and goth type surroundings. It is almost like being typecast into a certain group. Its not something that I particularly like and almost felt insulted by it. But I'm a cool guy so in all honesty I didn't give a shit.
When I first went into this I was slightly mistaken about what I was about to watch. The plot of this film has us believe that a young couple travels to this abandoned monastery that supposedly haunted. They go inside trying to find this "succubus" spirit only to fall prey to depravity and sin. So that would at the point where we can expect some of the hardcore stuff to come in right?
No, apparently rather than having any kind of story at all they just show a couple walk up to the monastery. Then all of a sudden this bare naked "Grudge" ghost follows them around the entire time while they just walk into different rooms where people are having sex. That's really it. I wish they would have included all of the back story about a haunted Monastery and explained the ghost that was following them but your just thrown into an S&M porn with creepy music.
Now on the porno side of things which I admit I do indulge in from time to time it does have a couple of hot scenes. The first scene features none other than Gianna who has one of the most fantastic boobs in the business. Her lesbian scene is fantastic and really builds the film up and leads you to believe this is gonna be great. The second scene is a little uninspired and the girl looks like she is just collecting a paycheck. Now scene 3 featured an amazing well endowed Daphne Rosen. She was very impressive but her lesbian costar was just not my type so it kind of ruined the scene. Scene 5 picked it up again with Katja Kassin whom I think just acquired a new fan.
The main thing though that I think was the downfall on this was some of the editing which hopped all over the place. I wasn't really sure what the hell was going on and why at certain points they would cut to a totally different position for no reason at all. Very odd and it kind of takes you out of the scene entirely. The lighting in a couple of the scenes was a little off too. In some of the sequences it would be too much and in others it would just be off to the side for apparent reason.
Bottom line is if you don't like dominatrix chicks this is definitely not for you. I could have enjoyed this a lot more if they had kept Gianna, Daphne Rosen and Katja all a constant. But rather than go that route they used someone new for every scene which is always a gamble. Overall I thought it was OK for a straight up porno but I would have liked it much more had they went a little bit into the back story like the plot had made one believe.
External Links