The Succubus, The Demon and The Witch (eBook)
Jump to navigation
Jump to search
The Succubus, The Demon and The Witch



The Succubus, The Demon and The Witch eBook Cover, written by T.A. Moorman

Author(s)
T.A. Moorman
Series
The Underlayes
Publisher
After Glows Publishing (Original)
GothicMom's Studios (Reissue)
Publication date
March 27, 2018 (Original)
April 28, 2018 (Reissue)
Media type
eBook
Length
258 Pages
ASIN
B07B543F8Z (Original), B07CQYZKRF (Reissue)
For other uses of the word Succubus, see Succubus (disambiguation).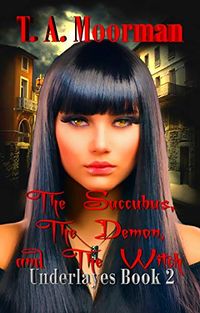 The Succubus, The Demon and The Witch is an eBook written by T.A. Moorman. It is the second work in the Underlayes series by this author. In this work one of the characters is a Succubus.
Overview
Title: The Succubus, The Demon and The Witch
Author: T.A. Moorman
Published By: After Glows Publishing (Original), GothicMom's Studios (Reissue)
Length: 258 Pages
Format: eBook
ASIN: B07B543F8Z (Original), B07CQYZKRF (Reissue)
Publishing Date: March 27, 2018 (Original), April 28, 2018 (Reissue)
Plot Summary
Jelissa has been a resident of the Abbey for as long as she has been alive. She has also never known what she is, besides being part witch. At the age of twenty-five, she will learn just what types of blood run through her veins. She will also find out much more--that she is also the long-lost princess almost no one even knew existed. Tialanna secreted her only child away for her own protection. Before she can tell Jelissa the truth, Jelissa is kidnapped. All Tialanna's greatest fears unfold before her very eyes, and her past comes back to haunt her in more ways than one. As most do when they come of age, Jelissa will learn the hard way that adult life isn't all it's cracked up to be. And Tialanna learns the hard way that if you don't learn from your past, it will come back and bite you on the ass. Tialanna and her band of unmerry misfits are in a race against the clock to rescue Jelissa. Will they find her in time? And if they do, will they be able to save her from a danger they hadn't anticipated: herself?
Book Review
At the time of this article's entry in the SuccuWiki, no review was available. Tera has this work on her reading list and will review it shortly.
External Links