The Devil You Know (eBook II)
Jump to navigation
Jump to search
The Devil You Know



The Devil You Know eBook Cover, written by K.H. Koehler

Author(s)
K.H. Koehler
Series
Nick Englebrecht
Publisher
K.H. Koehler Books
Publication date
March 1, 2014
Media type
eBook
Paperback
Length
247 Pages
ISBN
978-1620071014 (Paperback)
ASIN
B00IQWNB1Y
For other uses of the word Succubus, see Succubus (disambiguation).
For other uses of the word Incubus, see Incubus (disambiguation).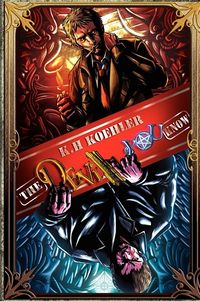 The Devil You Know is an eBook written by K.H. Koehler. It is the first work in the Nick Englebrecht series by this author. In this work both Succubi and Incubi appear.
Overview
Title: The Devil You Know
Author: K.H. Koehler
Published By: K.H. Koehler Books
Length: 247 Pages
Format: eBook & Paperback
ASIN: B00IQWNB1Y
ISBN-10: 1620071010 (Paperback)
ISBN-13: 978-1620071014 (Paperback)
Publishing Date: March 1, 2014
Other Works in this Series on SuccuWiki
Plot Summary
Sympathy for the Devil...
Not only does the devil have an only begotten son, but he's currently residing in the rural town of Blackwater in northeast Pennsylvania. Semi-retired from law enforcement, the handsome, if cynical, Nick Englebrecht becomes quickly caught up in a local missing child case that seems mundane on the outside, but when the sheriff requests his help as a psychic detective to help find the missing girl, his off-the-books investigation quickly leads him to some terrible truths about life, love and the universe as we know it. And if that isn't bad enough, the angels have begun an ethnic cleansing of all beings with demonic blood. Of course, Nick is at the top of their to-do list.
Book Review
At the time of this article's entry in the SuccuWiki, no review was available. Tera has this work on her reading list and will review it shortly.
External Links