The Bleeders (eBook)
Jump to navigation
Jump to search
The Bleeders

The Bleeders eBook Cover,
written by Michaela Haze
Author(s)
Michaela Haze
Series
Daemons of London
Publisher
Dirty Jeans Publishing
Publication date
October 17, 2016
Media type
eBook
Length
248 Pages
ISBN
9781370875474
ASIN
B01M1MV2LG
Followed by
The Human Herders
For other uses of the word Succubus, see Succubus (disambiguation).
For other uses of the word Incubus, see Incubus (disambiguation).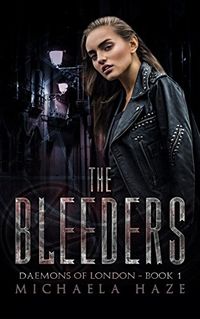 The Bleeders is an eBook written by Michaela Haze. It is the first work in the Daemons of London series by this author. In this work one of the characters is an Incubus and Succubi characters appear.
Overview
Title: The Bleeders
Author: Michaela Haze
Published By: Dirty Jeans Publishing
Length: 248 Pages
Format: eBook
ASIN: B01M1MV2LG
IBSN: 9781370875474
Publishing Date: October 17, 2016
Other Works in this Series on SuccuWiki
The Forgotten - Never Released
Plot Summary
All I wanted was to kill them. The people that murdered my sister. Little did I know that the man I hired to do the job, Henry Blaire, was an incubus. A soul-sucking monster that can kill with one touch. He's dark, dangerous and addictive. Literally. There is a word for people like me. People that drink daemon blood to become powerful, beautiful and strong. They call us The Bleeders.
Book Review
At the time of this article's entry in the SuccuWiki, no review was available. Tera has this work on her reading list and will review it shortly.
External Links