Succubus (1967)
Jump to navigation
Jump to search
Succubus



Succubus DVD Box Cover

Directed by
Jesús Franco
Produced by
Adrian Hoven[1][2]
Written by
Pier A. Caminnecci[1]
Starring
Janine Reynaud
Jack Taylor
Howard Vernon
Nathalie Nort[1]
Cinematography
Franz X. Lederle
Jorge Herrero[1]
Editing by
Fritzi Schmidt[1]
Studio
Aquila-Film[3]
Release

date(s)

April 19, 1968 (West Germany)
Country
West Germany[2][3]
For other uses of the word Succubus, see Succubus (disambiguation).

Succubus (German: Necronomicon - Geträumte Sünden) is a 1968 West German horror film directed by Jesús Franco. The original German title translates as Necronomicon - Dreamt Sin. The film stars Janine Reynaud as Lorna Green, a performer a nightclub who performs acts that involve eroticly charged sadomasochistic murders. It is suggested that Lorna may be under mind control by a man who might be actually be Satan (Michel Lemoine) which draws her to a night in the future when she actually begins to kill people.
Succubus was Franco's first film made entirely outside of Spain. During production, the German backers for the film fell out leading to the producer contacting Pier A. Caminnecci to finance the film.
Overview
Release Date: 7 April 1969 USA, Elsewhere 1967.
MPAA Rating: R - Sexual Content, Violence, and Language
Runtime: Prints run 93, 84, 81, and 78 minutes.
Director: Jesus Franco
Writer: Pier A. Caminnecci
Genre: Horror
Also Known As: Necronomicon - Dreamt Sin, Necronomicon - Geträumte Sünden
Plot Outline: Janine Reynaud stars as a nightclub stripper who free-floats through a spectral 60's landscape littered with dream-figures, dancing midgets and bizarre S&M games.
Cast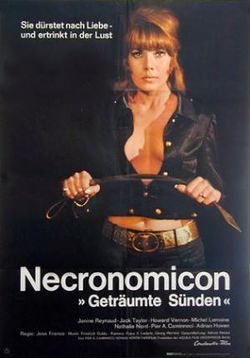 | Actor / Actress | Role |
| --- | --- |
| Janine Reynaud | Lorna Green |
| Jack Taylor | William Francis Mulligan |
| Adrian Hoven | Ralf Drawes |
| Howard Vernon | Admiral Kapp (as Howard Varnon) |
| Nathalie Nort | Bella Olga |
| Michel Lemoine | Pierce |
| Pier A. Caminnecci | Hermann |
| Américo Coimbra | The crucified actor |
| Lina De Wolf | |
| Eva Brauner | |
Plot Summary
This strange, surrealistic German horror film from cult director Jesus Franco stars Janine Reynaud as Lorna Green, who performs a pseudo-snuff nightclub act involving erotically staged S&M murders. Lorna's mind is controlled by a man who might be Satan (Michel Lemoine), and she slowly loses her tenuous hold on reality, moving increasingly closer to the night when she begins to really kill. Lorna's nightclub act and the final scenes -- involving a wild orgy where Lorna viciously murders a man named Bill Mulligan (Jack Taylor) -- were cut drastically in some of the film's several release versions.
Production
After working on several productions in Spain, director Jesús Franco sought out financial backing in Germany.[4] Franco became frustrated with the production rules and censorship in Spain, stating that even if he had an entirely Spanish crew, he would have to film in Spain to receive the co-production funding, and that for Succubus, "the censors had taken their red pen and crossed everything out, even the title".[5] The title for the film was found at the home of Pier A. Caminnecci where Franco found a book titled Necronomicon. The story was only three pages long, so Franco fused the story with a previous film script he had worked on.[5]
After finishing work on his film Lucky, the Inscrutable, he went to production manager Karl-Heinz Mannchen with an eight-page script for Succubus.[4] After securing funding, model Janine Reynaud was cast in the film after being introduced to Franco by his friend actor Michel Lemoine.[4]
While filming was in progress, the German financial backers pulled out of the film.[4] Producer Adrian Hoven contacted Pier A. Caminnecci who took interest with actress Reynaud and agreed to finance the film.[5][6] An affair occurred between the two.[4][6]
Release
Necronomicon was the first opportunity I had to make a film the way I wanted to make it. I'm rather astonished that the film did as well as it did.
Director Jesús Franco on working outside of Spain for
Succubus
[6]
Succubus was released in West Germany on April 19, 1968 and was a financial success.[2][6] The film was later released in the United States under the title Succubus. To promote the film, a phone number was offered for audience members who did not know what the title succubus meant.[6] The film was shown as Fantastic Fest in 2009 with Franco in attendance. The print of the film shown was borrowed from American director Quentin Tarantino.[7]
The film was originally released on DVD on October 27, 1998 by Anchor Bay Entertainment.[8] It was released again on July 25, 2006 with an interview with director Jesús Franco and actor Jack Taylor as bonus features by Blue Underground.[9]
Reception
In 1968, Vincent Canby wrote a review in the New York Times, noting that the film could not decide if it wanted "to be a bare-breasted exploitation movie or a nice, erotic horror story about a demented lady of bizarre sexual tastes" referring to the film as "being a bit of a drag".[10] In a review for the Umberto Lenzi film Orgasmo, Roger Ebert critiqued Succubus as one of the worst films of the year, referring to it as "a flat-out bomb. It left you stunned and reeling. There was literally nothing of worth in it. Even the girl was ugly."[11]
Critical Review
The following review was taken from the IMDb
This was an early color film for Franco but he seems to have mastered the new process with relatively little problems, here utilizing a decidedly Bava-esque palette (the famous scene with the mannequins, for instance). SUCCUBUS is considered a transitional film for Franco because, from here on in, the emphasis on eroticism will become much more pronounced until it almost turns into pornography sometime during the next decade. I haven't watched any films from the latter category but this film certainly pushes the issue as far as it was permissible at the time! Here, too, because of its dream-like nature (as was also to prove the case later with A VIRGIN AMONG THE LIVING DEAD [1971]) the film's narrative lapses and general 'incoherence' are easier to accept than in, say, EUGENIE DE SADE (1970) where one does not really expect to find such liberties – though I am beginning to realize that, with Franco, virtually anything goes!
Even though he does not receive credit for writing the screenplay, it is hard to imagine that Franco had no hand in its actual conception, as the themes the film explores are certainly in keeping with the rest of his oeuvre (right from the very first scene, the sleazy nightclub act, which reappears over and over in his films). While the plot is not easy to follow (it actually pays to read about it beforehand, because otherwise it would be practically impossible to make head or tails of anything!), it copiously references noted figures from the various arts – paintings, literature, cinema, music – which apparently pre-occupied Franco during this period. Unfortunately, most of it is probably beyond the reach of most audiences (myself included) but I must say that I was very pleased to learn that Franco, through a line spoken in the film by Janine Reynaud, held Bunuel, Lang and Godard as the epitome of cinema – three film-makers whose work is unmistakably linked (Bunuel chose film as his creative métier after watching Lang's DESTINY [1921]; Lang appears as himself in Godard's CONTEMPT [1963]) and all of whom clearly influenced Franco in the initial phases of his career. In particular, there is a brief repeated scene where Michel Lemoine, looking straight at the camera, describes Reynaud as 'a devil on earth' which reminded me of a similar 'gimmick' used by Bunuel in THE EXTERMINATING ANGEL (1962).
The film has some very striking imagery (not least of all, the two S&M scenes that were pretty much taboo at this point) with the soft-focus and often sensual dream sequences being particular highlights; another key scene finds Reynaud and Jack Taylor going up to her castle and he recounts the tale of Faustine, a Succubus, to her. But, even in this shortened version of the film, one still has to contend with banal passages like the drugged costume party sequence and other moments where the pace drops. Also, I have a quibble regarding the film's latter stages: why did Jack Taylor all of a sudden want to do away with the Janine Reynaud character (the irony of his unconsciously 'hiring' the Devil himself to do this is interesting but it remains frustratingly unexplained).
The music, as is customary for a Franco film, provides the perfect counterpoint to the onslaught of visual and narrative ideas; special care is also taken with the sound effects which are meant to illustrate Janine Reynaud's disorientation (and, with her, the viewer's). The casting of the main roles is appropriate as well: Reynaud may not rank among Franco's loveliest leading ladies but it is arguable whether anyone could have essayed the part with more conviction and, in any case, her sensual body is certainly utilized to the hilt throughout; Jack Taylor is commanding enough as her shady manager/lover; Michel Lemoine makes for a mysterious and sinister Mephistophelean figure; Howard Vernon's brief appearance is a natural, and typically professional.
Obviously, I would love to see the original full-length German-language version of the film released as a SE DVD, but one wonders whether that will ever come to pass. At least, my VHS copy was a one-up on the now-OOP R1 Anchor Bay DVD, as the film was presented in its correct (I assume) widescreen ratio! The film's silly pan-and-scan theatrical trailer (for the U.S. version) was also included.
Notes
↑ 1.0 1.1 1.2 1.3 1.4 "Credits". British Film Institute. London. http://ftvdb.bfi.org.uk/sift/title/43911?view=credit

. Retrieved November 23, 2012

.

 

↑ 2.0 2.1 2.2 "Necronomicon - Geträumte Sünden". filmportal.de. http://www.filmportal.de/en/movie/necronomicon-getraeumte-suenden_ea43d4a750c45006e03053d50b37753d

. Retrieved November 23, 2012

.

 

↑ 3.0 3.1 "Necronomicon - Geträumte Sünden". British Film Institute. London. http://ftvdb.bfi.org.uk/sift/title/43911

. Retrieved November 23, 2012

.

 

↑ Lars. "Succubus". Fantastic Fest. http://fantasticfest.bside.com/2009/films/succubus_fantasticfest2009

. Retrieved November 21, 2012

.

 

↑ "Succubus (1967) - Releases". Allmovie. http://www.allmovie.com/movie/succubus-v129287/releases

. Retrieved November 23, 2012

.

 

↑ "Succubus". Blue Underground. http://www.blue-underground.com/product.php?product=89

. Retrieved November 23, 2012

.

 

↑ Canby, Vincent (April 26, 1969). "Succubus (1967) Screen: 'Succubus,' a German-Made Fantasy on Sex". The New York Times. http://movies.nytimes.com/movie/review?res=9A05EEDC123AEE34BC4E51DFB2668382679EDE

. Retrieved November 23, 2012

.

 

↑ Ebert, Roger (August 20, 1969). "Paranoia". Chicago Sun Times. http://rogerebert.suntimes.com/apps/pbcs.dll/article?AID=/19690820/REVIEWS/908200301/1023

. Retrieved February 11, 2013

.

 
References
Shipka, Danny. Perverse Titillation: The Exploitation Cinema of Italy, Spain and France, 1960-1980. McFarland & Company, 2011. ISBN 0786448881.
External Links