Succubus-Skin XVII
Jump to navigation
Jump to search
Succubus - Skin XVII



Succubus - Skin XVII Adult Movie DVD Cover

Directed by
Toshi Gold
Produced by
Toshi Gold
Written by
Toshi Gold
Starring
Bobbi Barron
Maren Beautte
Daisy Chain
Studio
Astral Ocean
Distributed by
Eurotique Entertainment
Astral Ocean
Release

date(s)

October 20, 1999
Running time
120 Minutes
Country
USA
Language
English
For other uses of the word Succubus, see Succubus (disambiguation).

Succubus - Skin XVII was a 1999 American Adult film starring Jill Kelly and Julie Meadows. While titled Succubus, the film was in fact a vampire porn themed movie.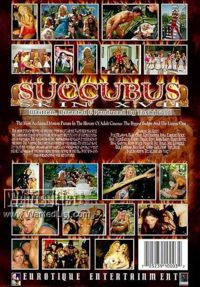 Overview
Title: Succubus - Skin XVII
MPAA Rating: XXX - Sexual Content and Language
Runtime: 120 Minutes
Director: Toshi Gold
Writer: Toshi Gold
Studio: Eurotique Entertainment/Astral Ocean
Release Date: October 20, 1999
Genre: Straight, Feature
Tagline: Succubus - CON-FESS-SCREAM-CUM-it will set you free.
Cast
Actor / Actress
Jill Kelly
Julie Meadows
Bobbi Baron
Dylan
Gatinha
Guero
Ivan Joyderpus
Jack Frost
More
Nick Delts
Sole
Tex Sexton
Tyler Fallon
Caroline Pierce
Cherry Mirage
Daisy Chain
Diva
Envy
India
Kim Chambers
Maren Beautte
Billy Glide
Erik Everhard
Joel Lawrence
Julian St. Jox
Plot Summary
The Most Acclaimed Motion Picture In The History Of Adult Cinema - The Biggest And The Largest Cast! The most explicit picture of our time cums to life as the Vapyers that rule the earth descend on human flesh. Sensuality spinning out of control nothing is too taboo. The nakedness of the thousands is revealed in their sins of the body. The vampire bible opens and burns in wet desire. No one can save you from the ultimate orgasm as you taste each wicked drop and pray within the sexual walls of the most erotic motion picture of the era. Succubus - CON-FESS-SCREAM-CUM-it will set you free.
Cum to the land of the latex lizard gummi people - with the most lavish fetish clothing in history - Ripping anuses, cum on latex for sacrificial fucks - Cunt juice smeared on latex - The most beautiful female slaves suck balls and pray to scrotums - any Judas is stripped and wicked asses cleaned with tongues - Religious sex trances with the Saphis lesbians descending from heaven - Mikvah baths and genital painting - Indian chief goddess with her gorgeous servants using the semen of the cult to wash new virgins - sit on the thrones of pussy as prayers are offered to slippery clits - veiled ghost goddesses who suck eternal penis and many anal rituals - excite Skin – Repent.
Critical Review
The following review was taken from Adult DVD Talk
Reviewed by Evil_Rip on 6/24/2000
Rating: 2/5
First Impression? Hmmmm interesting, A Vampire Porno. This was odd. Imagine Embrace of the Vampire only with more sex and pretty much the same plot structure. Was this a porno? Or is this simply a very hardcore B-movie? This movie almost crosses the lines. Am I supposed to be aroused? Or should I just keep watching? What is going to happen next?The music actually enhances the movie. The dark music is fitting for a vampire theme. However, the music overwhelms most of the scenes and you don't get to hear the moaning and delights of the people in the film. Every Scene had something interesting. From Jill Kelly remembering her "Vampire Father's" seduction of her mother to Jill seducing a young woman. Overall Great.
Sometimes a little hollow but nothing too annoying. If you like horror movies. And you like porn. You'll love this movie! I mean. You cannot not have it! A must own for any horror buff. Is this a porno? Not exactly. Are you gonna beat your meat to this movie. Well if you're a bigger freak than I am then maybe. Most scenes were erotic and tantalizing and still dark. The opening has Jill Kelly putting dark wax candles into the assess of some girls. Very dark and strange. Odd, weird, freakish and Vampiric in nature. Yes this is a hardcore erotic Horror movie. The vampire theme was good. I haven't seen a bizarre movie like this. This was amazingly good. I just have to say wow. This is a movie is the perfect blend of horror and porn. Great, You must Get this movie! You must! End of discussion. You could probably even show this to your more open minded friends.
Would I buy another in this series? You never know. This was interesting. After that ending I'd like to see what happens next.
External Links
Succubus - Skin XVII at the IMDb