Straight by the Rules (eBook)
Jump to navigation
Jump to search
Straight by the Rules

Straight by the Rules Republish eBook Cover,
written by Michelle Scott
Author(s)
Michelle Scott
Series
Lilith Straight
Publisher
Smashwords (Original)
Carina (Republished)
Publication date
October 4, 2012 (Original)
October 13, 2015 (Republished)
Media type
eBook
Length
211 Pages
ISBN
9781474045889
ASIN
B015TV02X4
Preceded by
Straight To Heaven
For other uses of the word Succubus, see Succubus (disambiguation).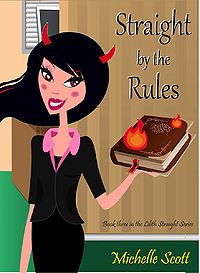 Straight by the Rules is an eBook written by Michelle Scott. It is the third work in the Lilith Straight series by this author. In this work the character Lilith Straight is a Succubus.
Overview
Title: Straight by the Rules
Author: Michelle Scott
Published By: Smashwords (Original), Carina (Republished)
Length: 211 Pages
Format: eBook
ASIN: B015TV02X4
ISBN: 9781474045889
Publishing Date: October 4, 2012 (Original), October 13, 2015 (Republished)
Other Works in this Series on SuccuWiki
Plot Summary
The Devil made me…
I'm Lilith Straight, the Devil's servant. You'd think that it would be straightforward, wouldn't you? Carry out the Devil's work, that's all: wreak havoc and cause carnage on Earth…
The problem is, I still have a conscience. Which makes life just a little bit tricky in Hell, as you might imagine. And when your sister actually belongs in Heaven, the hot man in your life has his own devilish agenda and the rest of your family won't stop meddling in your unfinished business…well, let's just say it's complicated!
No one ever plays by the rules in Hell, so maybe it's time to make up my own!
Book Review
At the time of this article's entry in the SuccuWiki, no review was available. Tera has this work on her reading list and will review it shortly.
External Links