Straight To Hell (eBook)
Jump to navigation
Jump to search
Straight To Hell

Straight To Hell Republish eBook Cover,
written by Michelle Scott
Author(s)
Michelle Scott
Series
Lilith Straight
Publisher
Smashwords (Original)
Carina (Republished)
Publication date
September 9, 2011 (Original)
October 24, 2013 (Republished)
Media type
eBook
Length
256 Pages
ISBN
9781472054739
ASIN
B00F462CNS
Followed by
Straight To Heaven
For other uses of the word Succubus, see Succubus (disambiguation).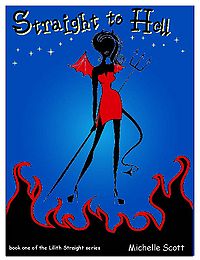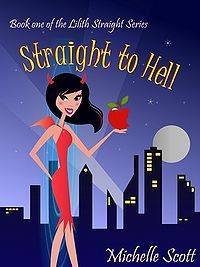 Straight To Hell is an eBook written by Michelle Scott. It is the first work in the Lilith Straight series by this author. In this work the character Lilith Straight is a Succubus.
Overview
Title: Straight To Hell
Author: Michelle Scott
Published By: Smashwords (Original), Carina (Republished)
Length: 256 Pages
Format: eBook
ASIN: B00F462CNS
ISBN: 9781472054739
Publishing Date: September 9, 2011 (Original), October 24, 2013 (Republished)
Other Works in this Series on SuccuWiki
Plot Summary
The Devil Never Forgets a Deal
I, Lilith Straight, was the woman you always wanted to be. I was married to someone better looking than your husband, we lived in that house you always wanted. Within a year, however, all of that changed. My marriage dissolved, my house burned down, and my job hardly paid the bills. So when I was hit by a car and died, I thought my life couldn't get any worse. Boy, was I wrong.
Hell was not the place I imagined. It was worse. During my brief stay, I learned some disturbing truths about my family. Most worryingly my ancestor's deal with the devil promising him every female descendant as a succubus.
So these were my options: Life on earth as a soul-sucking seductress. Or death and pass the succubus baton to my sweet little daughter. There was no choice. Welcome to hell on earth, Lilith. Mother, teacher, wanton she-demon.
Book Review
At the time of this article's entry in the SuccuWiki, no review was available. Tera has this work on her reading list and will review it shortly.
External Links