Starved For Love (eBook)
Jump to navigation
Jump to search
Starved For Love



Starved For Love eBook Cover, written by Annie Nicholas

Author(s)
Annie Nicholas
Publisher
Carina Press (Original)
Publication date
September 17, 2012 (Original)
October 12, 2020 (Reissue)
Media type
eBook
Length
168 Pages
ISBN
9781426894381
ASIN
B008JHRMQ6 (Original)
B08JJVFS36 (Reissue)
Preceded by
Ravenous
Followed by
Sinful Cravings
For other uses of the word Incubus, see Incubus (disambiguation).
For other uses of the word Succubus, see Succubus (disambiguation).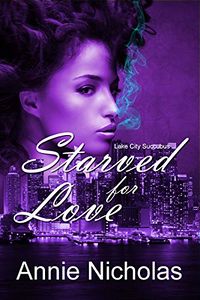 Starved For Love is an eBook written by Annie Nicholas. It is the second work in the Lake City Stories series by this author. In this work the character Pia Blyton is a Succubus and the character Valerio Hunan is an Incubus.
Overview
Title: Starved For Love
Author: Annie Nicholas
Published By: Carina Press (Original)
Length: 168 Pages
Format: eBook
ASIN: B008JHRMQ6 (Original), B08JJVFS36 (Reissue)
IBSN: 9781426894381
Publishing Date: September 17, 2012 (Original), October 12, 2020 (Reissue)
Other Works in this Series on SuccuWiki
Plot Summary
After almost dying of starvation to remain faithful to a mortal lover, succubus Pia Blyton now shields her heart by feeding solely on men she won't fall for. The only trick is, to create energy to survive, she must achieve orgasm. At least that rules out bad sex with her three lovers. Too bad she's a sucker for falling in love.
When her demon lover doesn't arrive for their arranged rendezvous, Pia is forced to ask her vampire lover to step in before her energy becomes dangerously low. In return he demands a favor and Pia finds herself in the hotel suite of the mysterious Valerio Hunan, who seduces her with a devastating kiss. Too late Pia learns he's an incubus who wants to lure her into marriage—a marriage without love.
As an incubus used to bedding a variety of succubi, Val doesn't understand Pia's yearning for love. He needs a succubus wife to provide him with a steady source of energy. But he wants Pia for the passion and renewed interest in life she makes him feel. Can Pia convince Val that sex isn't just for survival and love is for more than the weak?
Book Review
At the time of this article's entry in the SuccuWiki, no review was available. Tera has purchased this work and will review it as soon as possible.
External Links