Son of a Succubus (eBook)
Jump to navigation
Jump to search
Son of a Succubus



Second Alternative eBook Cover of Son of a Succubus Cover Cover, written by Scott Dorsey

Author(s)
Scott Dorsey
Publisher
Ables Publishing
Publication date
April 5, 2013
Media type
Paperback
eBook
Length
394 Pages
ISBN
978-0989207010
ASIN
B00C85WN5A
For other uses of the name Succubus, see Succubus (disambiguation).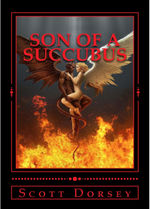 Son of a Succubus is an eBook written by Scott Dorsey. In this work, several of the characters are Succubi and the main character is the son of a Succubus.
Overview
Name: Son of a Succubus
Author: Scott Dorsey
Publisher: Ables Publishing
Length: 394 Pages
ASIN: B00C85WN5A
ISBN-10: 0989207013
ISBN-13: 978-0989207010
Release Date: April 5, 2013
Summary
Virgo Furs is an agent of the Council of the Unitied Underworld Coalition. He finds himself on a hitlist and must race against being murdered by vampires and other assassins or executed by the Council for a murder he did not commit. Ultimately, he battles his way through Hell, Eden and must endure being assulted with the truth in Heaven to find the answers he needs to save everyone on Earth.
Join Virgo on an epic adventure to save his life, his soul, and his very future as he battles to save mankind from extinction.
Book Review
At the time of this article's entry in the SuccuWiki, no review was available. Tera has purchased this work and will review it as soon as possible.
External links