Sexual Hauntings Through the Ages
Jump to navigation
Jump to search
Sexual Hauntings Through the Ages



Sexual Hauntings Through the Ages Hard Book Cover, written by Colin Waters

Author(s)
Colin Waters
Publisher
Dorset (Hardcover)
Hodder & Stoughton (Softcover)
Publication date
1993
Media type
Hardcover
Paperback
Length
200 Pages
ISBN
978-0340625781 (Softcover)
ASIN
B000O60KSM (Hardcover)
For other uses of the word Succubus, see Succubus (disambiguation).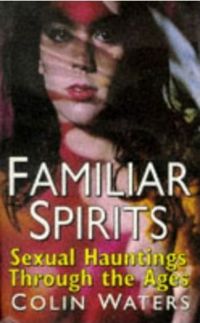 Sexual Hauntings Through the Ages, also known as Familiar Spirits in paperback form, is a book written by Colin Waters. As part of the work's investigations, Succubi are covered.
Overview
Title: Sexual Hauntings Through the Ages / Familiar Spirits
Author: Colin Waters
Published By: Dorset (Hardcover), Hodder & Stoughton (Softcover)
Length: 200 Pages
Format: Hardcover & Paperback
ASIN: B000O60KSM (Hardcover)
ISBN-10: 0340625783 (Softcover)
ISBN-13: 978-0340625781 (Softcover)
Publishing Date: 1993
Plot Summary
Ghostly happenings and apparitions are investigated in this survey of sexual hauntings through the ages. This is a collection of over 40 hauntings ranging from harmless naked figures to horrific and bizarre entities who have brought death and destruction to those who have come in contact with them. A collection of real cases from around the world, from the eerily macabre to the bizarre. Ghostly mermaids, hellish orgies, flagellated nuns, goblins and succubi are some of the cases and characters represented.
Book Review
At the time of this entry's creation on SuccuWiki, there were no reviews available.
External Links