Red Sonja Unconquered
Jump to navigation
Jump to search
Red Sonja Unconquered
Code
RS1
Rules required
Dungeons & Dragons
Character levels
10 - 14[1]
Campaign setting
CM
Authors
Anne Gray McCready[2]
First published
1986[2]
Linked modules
None
For other uses of the word Succubus, see Succubus (disambiguation).

Red Sonja Unconquered is a 1986 adventure module for the Dungeons & Dragons role playing game based on the barbarian heroine Red Sonja. Like the similar barbarian-hero inspired Conan modules (Conan Unchained! and Conan Against Darkness!), this module was not very popular. In this module, players encounter a Succubus in their travels.
Overview
Title: Red Sonja Unconquered
Author: Anne Gray McCready
Editor: Tim Kilpin
Cover/interior Art: Clyde Caldwell
Published By: TSR, Inc.
Length: 32 Pages
Format: Paperback & eBook
IBSN: 0-88038-324-0
Publishing Date: 1986
Plot summary
This is a scenario for high-level adventurers, featuring the Red Sonja character created by Robert E. Howard and Roy Thomas.[3] In the adventure, Sonja must journey up the Zaporoska River to an ancient burial ground.[3]
Publication history
Red Sonja Unconquered was written by Anne G. McCready, with art by Clyde Caldwell, and was published by TSR in 1986 as a 32-page booklet with a large color map and an outer folder.[3]
Succubi Appearing in this Module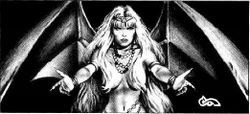 In this module there is a section of the adventure called Journey of Fear. In the evenings when the adventuring party is resting, a Succubus will visit the male members of the party taking energy from them when they sleep. The unnamed Succubus will attack the party in the evenings until she is defeated.
Statistics
| | |
| --- | --- |
| Type | Succubus |
| Alignment | Chaotic Evil |
| AC | 0 |
| HD | 6 |
| HP | 32 |
| Movement | 12 feet/ 18 feet |
| AL | 2 |
| Damage | 1-3/1-3 |
| Special Abilities | Energy Drain |
| SD | +1 or better weapon to hit |
| MR | 70% |
References
External links