Ravenous (eBook)
Jump to navigation
Jump to search
Ravenous



Ravenous eBook Cover, written by Annie Nicholas

Author(s)
Annie Nicholas
Series
Lake City Stories
Publisher
Annie Nicholas
Publication date
July 1, 2014 (Original)
January 2, 2021 (Reissue)
Media type
eBook
Length
132 Pages
ISBN
9781311979308
ASIN
B00LH7GYQO (Original)
B08RY6RMZ2 (Reissue)
Followed by
Starved For Love
For other uses of the word Succubus, see Succubus (disambiguation).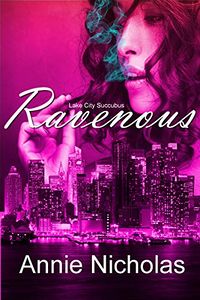 Ravenous is an eBook written by Annie Nicholas. It is the first work in the Lake City Stories series by this author. In this work the character Pia Blyton is a Succubus.
Overview
Title: Ravenous
Author: Annie Nicholas
Published By: Annie Nicholas
Length: 132 Pages
Format: eBook
ASIN: B00LH7GYQO (Original), B08RY6RMZ2 (Reissue)
IBSN: 9781311979308
Publishing Date: July 1, 2014 (Original), January 2, 2021 (Reissue)
Other Works in this Series on SuccuWiki
Plot Summary
Suffer the hunger.
Pia Blyton wants it all. A steady boyfriend, love and her independence. But to ignore her succubus nature is to welcome chaos. Every three days she must orgasm to feed. Bad sex isn't an option. Stave off the hunger for too long and her demon side peeks out, and its tastes are much less discerning than hers.
One bad day, one wrong decision, and her demon takes control of her libido and kisses all her best intentions goodbye.
Brokenhearted and ashamed, Pia is dragged home to Lake City by Zur-Sin, a vampire her father paid to find her. Caught in a world where mortal desires are seen as a weakness, Pia needs to figure out how to protect her heart from her deepest longings.
Book Review
At the time of this article's entry in the SuccuWiki, no review was available. Tera has this work on her reading list and will review it shortly.
External Links