Paul Amos
Jump to navigation
Jump to search
Paul Amos

Born

Pencoed, Wales

Education
1997-2000 LAMDA
Occupation
Actor
Known for
Vex in Lost Girl

Paul Amos is a Welsh actor. He was born in Pencoed, Wales and attended the Welsh school Ysgol Gyfun Llanhari. Later he studied acting at the National Youth Theatre of Great Britain and LAMDA, the London Academy of Music and Dramatic Arts. In 2005, he moved to Toronto, Canada and now lives in Stratford, Ontario.
He has appeared in the Canadian television series Lost Girl, playing the role of the Dark Fae Mesmer known as Vex in two first season episodes, three second season episodes and three episodes in the third season.
Role on Lost Girl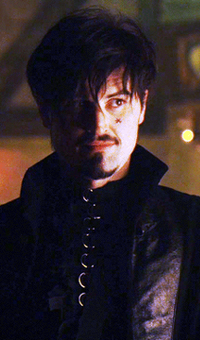 He played the role of Vex in the following episodes: Season One: Vexed, Faetal Justice. Season Two: It's Better to Burn Out Than Fae Away, Into the Dark, Flesh and Blood. Season Three: Caged Fae, SubterrFaenean, and ConFaegion.
Vex was a Dark Fae Mesmer who was aligned with The Morrigan through the first two seasons of the series. When he first appeared in Vexed, he acted on the behalf of The Morrigan and acted as an enforcer for her. He owned a Goth and BDSM club called Carpe Noctem which also acted as a meeting and feeding ground for Dark Fae.
In Faetal Justice he came to odds with Bo over the apparent death of another Dark Fae. This friction continued through the second season episode It's Better to Burn Out Than Fae Away but there is some grudging admiration for Bo from Vex. Vex's arc changed in Into the Dark when he found himself drawn into the battle with The Garuda and broke his ties to The Morrigan.
The second season finale, Flesh and Blood, found Vex as part of the group opposing The Garuda and being made to accept an injection of Bo's blood in order to strengthen Bo's powers. When this happened, Vex seemed to be drawn to Bo and the power she holds within her.
This, along with his departure from The Morrigan meant that when season three began in Caged Fae, his status with the Dark Fae had been destroyed and he was forced to live with Bo and Kenzi. When Hale was made the new Ash he attempted to become Dyson's partner but did not succeed in this. During SubterrFaenean, it appeared that he was beginning to have a friendship with Kenzi and to a lesser extent Bo.
In ConFaegion, The Morrigan used Vex to deliver a parasite into Bo, Dyson and Tamsin and then was told that he needed to kill the three of them to regain his position. However, his friendship with Kenzi had progressed to the point where he decided to not carry out The Morrigan's plans. At the end of that episode, he decided to leave on a journey but promised Kenzi that he would return someday.
At the time of this article, Vex had not returned to the series.
Filmography
Film

| Year | Title | Role | Notes |
| --- | --- | --- | --- |
| 2002 | Four Feet | Orderly | Short Film |
| 2010 | Forbidden Fruit | Lucifer | Short Film |
| 2011 | Nexus | David | aka "Nexus: The Drug Conspiracy" |
| 2011 | Long Gone Day | Richter | |
| 2012 | Seven Years | Victor | Short Film |
| 2013 | Sex After Kids | Peyton | Post-production |
Television

| Year | Title | Role | Notes |
| --- | --- | --- | --- |
| 2003-2004 | Jacob´s Ladder | Gideon/King David | |
| 2004 | Casualty | Karl Sands | 2 Episodes |
| 2009-2012 | Murdoch Mysteries | Dr. Roberts | 5 Episodes |
| 2009 | Degrassi Goes Hollywood | Mick | TV Movie |
| 2010 | Abroad | Hugh | TV Movie |
| 2010 | Aaron Stone | U | 4 Episodes |
| 2010-present | Lost Girl | Vex | Supporting Role - 8 Episodes |
| 2011 | Warehouse 13 | Charles Wells | Episode: "3... 2... 1" |
| 2012 | Mudpit | | Episode: "We Don´t Need No Shreducation" |
External links