Oh Kappa, My Kappa
Jump to navigation
Jump to search
"Oh Kappa, My Kappa"
Lost Girl episode

Kenzi and Bo go to college
Episode no.
Season 1
Episode 3
Overall Episode 3
Directed by
Paul Fox
Written by
Michelle Lovretta
Produced by
Wanda Chaffey
Featured Music
See Section Below
Cinematography by
David Greene
Editing by
Paul G. Day
Production Code
103
Original Air Date
September 26, 2010
Length
60 minutes (runtime)
Guest Actors
Episode Chronology

Short Summary List of Lost Girl Episodes
Detailed List of Lost Girl episodes


Bo and Kenzi open a private investigation office. Their first job is to go undercover to find a missing student at a local college.

SuccuWiki Rating: (3.9)
For other uses of the word Succubus, see Succubus (disambiguation).
Lost Girl is a Canadian developed and produced television series which premiered in the 2010 season on the television channel Showcase.

For further on Bo, the succubus of the series, see her article in the SuccuWiki here. For the series itself, see that article here. For a general discussion of Succubi and their mythos in the series, see that article here.

Oh Kappa, My Kappa was the third episode of the Canadian television series Lost Girl. It was first shown on the Showcase Television Channel in Canada on September 26th, 2010 at 9 PM Eastern time. When this episode appeared on the SyFy channel in the United States, the episode was retitled as Sorority.
Production Data
Series: Lost Girl
Season: 1
Episode Number: 3
Episode Title: Oh Kappa, My Kappa
Directed by: Paul Fox
Writing credits: Michelle Lovretta
Production Company: Prodigy Pictures
Running Time: 60 Minutes (Including Commercials)
Country of Origin: Canada
Originally Aired on: September 26th, 2010 on the Showcase Television Channel in Canada
Number of Canadian Viewers: 185,000
Number of American Viewers: 1.44 million[1]
Cast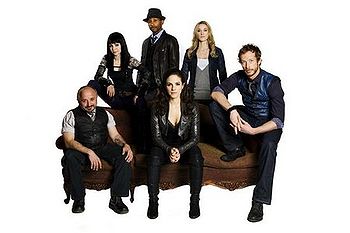 Music in this Episode
Song Title
Artist
Notes
There is XXXX (Within My Heart)
You Say Party
Written by Derek Adam, Devon Clifford,
Krista Loewen, Becky Ninkovic, Stephen O'Shea
Got Me (Acoustic)
Stars & Crosses
Written by Marco DiFelice, Benjamin Pinkerton,
Marcus Trulli, Clara Klein
Because I'm Awesome
The Dollyrots
Written by Luis Cabezas, Kelly Ogden
New York Irish
The Music People
From Celtic Melt
Polka Dot
The Music People
From Celtic Grooves
Bounce With Me
Kreesha Turner
Written by Mike James, Troy Samson
Outward Bound
The Music People
From Celtic Melt
Au Revoir Mon Coeur
The Music People
From Vocal Styles 1
Mandolinerry
The Music People
From Celtic Themes
Plot
Short Summary
This episode follows immediately in time from the ending of the previous episode. Bo and Dyson are intimate, trying to explain what they feel about each other. Bo and Kenzi open a private investigation office. Their first job is to find a missing student at a local college. Kenzi goes undercover in the college by joining a sorority, Bo joins campus security to uncover what happened. Bo and Dyson's relationship goes on the rocks through the interference of Trick, and another species of Fae is revealed as well as what Dyson's role is for the Fae.
Detailed Summary
The episode picks up quite literally where episode two ended with Bo and Dyson in bed together. It becomes very obvious through their conversations that Bo is falling in love with Dyson and vice versa. They talk about Bo's problems, how they need to fix them somehow and then we switch scenes.We look in on a girl running from someone in a forest in the middle of the night and then it ends with her screaming and the opening titles for the series roll. When we return, Kenzi is going to the bathroom and runs into Dyson half-naked. He of course asks where the toothpaste is. After pointing that out, Kenzi leaves and spends the next little while teasing Bo about Dyson being there. Dyson comes in, tells Bo to keep in touch and leaves.
Then Bo finds a flyer in Kenzi's bag which promotes "Bo's Private Investigation Services". The pair have an argument over Kenzi's idea. Bo not liking it, Kenzi telling her that they need to make money somehow and the two of them have the skills to make this idea work. In the end, Bo agrees to see one client.
That client turns out to be the mother of the girl we saw running in a forest earlier. Her name is Ester and she's in a panic because her daughter Gina has vanished from her College in the past few days. Bo agrees to look into it and see what happened.
While Kenzi uses her contacts, Bo visits Dyson at his office and, after getting the typical police line on the situation, she gets him to admit that there are Fae files on some crimes that Dyson looks after. Mostly to keep such things secret and out of the official files. He shows her a file on events at Locksley College, one of which was the discovery of a girl who was found ten years prior, her body hollowed out.
Bo returns to the apartment she shares with Kenzi, and finds out that the missing girl hasn't accessed her bank accounts, nor used her phone or done anything else that indicates she is still alive but hiding. Bo then tells her that they are going undercover. And Kenzi gets to wear pink and join the sorority Gina was going to join: Kappa Theta Xi. Bo will be going undercover as campus security as well.
Upon reaching the college, Bo and Kenzi split up and try to find out what each of them can about what's going on there. Bo connects with a security guard named Wayne. As Bo walks the campus with Wayne she also gets her first look at the Dean of the college, Dean Barretty. Kenzi works her way through the trails and tribulations of being a college pledge. We also get a short look at Gina being held in an underground space she is unable to escape from. We also get our first look at a creature there with her that attacks her before diving into a pool of greenish water.
After looking in on Kenzi trying her best not to kill the members of the sorority, we switch scenes again to find Bo in the Dean's office trying to get information out of her. When the Dean isn't cooperative, she uses her powers to seduce the Dean and make her give some information. They are interrupted and Bo leaves the Dean who makes a phone call to find out who Bo is.
Switching back to Kenzi in the sorority, we get a glimpse of past sorority house leaders, one of them being the Dean herself. Kenzi is placed in Gina's room, has a look through the missing girls belongings and then the scene changes again.
Bo is seen walking through the forest that is part of the college and finding a sinkhole. After going back to Kenzi again at a beer bender at the sorority, and being refused access to the sorority basement, we go back to Bo breaking into the Dean's office to have a look around. Kenzi appears soon after and the pair are almost caught by Wayne in the office. However, Bo finds an envelope under the Dean's desk which contains student identification numbers.
Later on, Bo and Kenzi return to their apartment and examine old plans of the college that show underground rivers that lead under many of the campus buildings including the sorority's. Bo gives the student names Kenzi got from the numbers to Dyson who confirms that all of the people on the list are missing students when the two of them meet at the Fae Bar from earlier in the series. And we meet a waitress there named Kaila. Bo tells Dyson of her plans and then leaves the bar.
Dyson is then summoned by Trick to a back room and told that he needs to break up with Bo because he is getting too involved with her. Dyson is unhappy about this and tells Trick this. Dyson remains in the bar looking through some old books and flirting with Kaila a bit. Bo in the meantime searches the forest and Kenzi undergoes her initiation.
It turns out that the initiation is harmless and she calls Bo to tell her so. Bo is then attacked by Wayne and dragged off. When Kenzi cannot contact Bo, she calls Dyson and he meets her at the Dean's office. The Dean is found stabbed to death there.
We then see Bo chained up in the same place as Gina and Wayne is revealed as being the one that has been kidnapping girls from the campus and letting the being in the pool feed on them. In return for that, he drinks the water of the pool and does not age as a result. He then leaves the women in the chamber to their fate.
Running out of time, Dyson and Kenzi go to the forest and try to track Bo. Dyson has problems tracking her and, after giving Kenzi some instructions, shifts into his wolf form which is a white haired wolf and charges through the forest, leaving Kenzi behind.
Bo frees herself and then fights with the creature, which turns into a losing battle quickly. The creature is defeated when Dyson appears and cuts the top of its head off letting liquid pour out of it.
In the aftermath, Gina is saved, Bo recovers at home and Kenzi reveals a sketch of the creature which is described as a Kappa. Then Bo decides to visit the bar and see Dyson again to tell him how she feels about him. She finds him in a back room with Kaila and is devastated.
They confront each other and Dyson explains that when they were together it was only to heal her and that was all it could ever be. Bo attempts to put up a brave face and then leaves him behind as she leaves.
The last image is of Dyson glowering at Trick and walking away leaving Trick wiping his bar top clean.
Questions in this Episode
We have no real idea how the Kappa came to be where it was. According to Wikipedia here, this being is found in Japanese culture. How did it come to be in what appears to be a North American city?
How was Wayne able to stay at the college from 1940 to the present day and not be noticed?
With all of the sinkholes and other clues going on around the college, did Dyson have all the information in the file or was there some sort of collusion between Wayne and the Fae?
Dyson appeared to have the Fae file with him that Bo would need when he and Bo were in the records room. So where are all of the Fae files kept and besides Dyson, who else has access to them?
Trick seems to be pushing Dyson in a certain direction for his own reasons. What are they?
What happens with Bo now that she has been rejected, seemingly, by Dyson? Will this mean that she goes back to her old ways?
With the appearance of Kaila being with Dyson, is this a one night stand or will she be a recurring character? And what kind of Fae is she?
Episodes
For a more detailed list see: List of Lost Girl episodes, or click on the individual episode titles for more in depth articles.
Lost Girl Series Episodes
References
Episode Review on Succubus.Net
Tera, the owner of this website, posted a review of this episode on her Blog, A Succubi's Tale on Friday, October 1st, 2010. You can find that review here. She gave it 3.9 pitchforks out of 5.
External Links