My Sweet Succubus (eNovel)
Jump to navigation
Jump to search
My Sweet Succubus

My Sweet Succubus eBook Cover,
written by Delilah Devlin
Author(s)
Delilah Devlin
Publisher
Ellora's Cave Publishing
Publication date
March 23, 2012
Media type
eBook
Length
50 Pages
ISBN
9781419940019
ASIN
B007NWNNH0
Followed by
Sweet Succubus
For other uses of the word Succubus, see Succubus (disambiguation).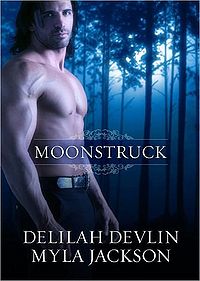 My Sweet Succubus is an eBook written by Delilah Devlin. This work was previously self-published by this author as She's All That in the anthology work Moonstruck. In this work, the character Melanie Bradshaw discovers that she is a Succubus.
Overview
Title: My Sweet Succubus
Author: Delilah Devlin
Published By: Ellora's Cave Publishing
Length: 50 Pages
Format: eBook
ASIN: B007NWNNH0
IBSN: 9781419940019
Publishing Date: March 23, 2012
Plot Summary
Melanie Bradshaw is driven to horny desperation by her torrid dreams. When she finally acts on her desires, things go horribly wrong and she witnesses the murder of an overly amorous lounge lizard—whose body disintegrates before her eyes.
Detective Moses Brown isn't thrilled to get another "full-moon case"…until he meets the delectable Melanie, who took a walk on the wild side straight into vampire territory. Moses doesn't know why vamps are interested in her, but until he can find out, he's going to stick to her like glue, doing his best to ignore their instant attraction.
But pretty little Melanie has designs on his body. Her hunger for sex is voracious, even downright insatiable. How's a brother to resist?
Book Review
The following review was originally published by Tera on her Blog, A Succubi's Tale on August 23, 2016

Melanie saw something she cannot understand and reports this to the police. Encountering a detective who seems to actually take her seriously, she finds herself craving him in every way imaginable. But Melanie has a secret, it's a dangerous one if she cannot control it or understand it, both for herself and for Moses who knows more than he's letting on.
The work mainly focuses on the relationship that builds over the course of the story between Melanie and Moses. There's sexual tension from the beginning which takes very little time from their first touch to the two characters being intimate with each other. Melanie seems, as a whole, like a cute girl but she hides beneath the surface another self who craves sex, devours it. But that is, of course, because she is a succubus.
It's this part of the story that interested me, it's also part of the story that doesn't quite go into enough detail for my liking. There are two Melanies in this work. The human one we learn a lot about. Her wants, her thoughts, how she aches and needs. How frightened she is from what she's seen. As the story unfolds and the truth comes out, not just about her, but the world around her, the confusion from within Melanie is very clear. But then comes the other Melanie. The one that is more of a wild animal. The one that "needs" and growls of that need repeatedly.
The transformation between Melanie's two selves is a little difficult to follow sometimes, really not coming to clarify all of her aspects. The succubus Melanie is quite different, having wings and so forth, but also blue skin which is a rather rare thing for succubi to have in stories. As well, the mental transformation alongside the physical one allows for the succubus Melanie to be a character in her own right.
But that's the problem. She can't express herself well enough. She growls of need most of the time, uses her powers to sexually charge Moses and drive him, and her, into wild sex to try and sate her needs. It's not over the top, there's a good deal of sense to that, but, again, there's something missing. The expression of what Melanie succubus wants is left to Melanie human to explain as best she can and that's not a simple thing for her.
There's the beginning of a merging of the two sides of Melanie, this starts almost from the moment that Moses appears. Melanie the human goes from shy to coy to 'fuck my brains out' and back again so often that it gets a little confusing. When the world is revealed, that there are vampires and so on, and that Melanie is stuck in the middle of things, that's where something again is missing.
There are a number of characters and situations of the past that are referenced, but not delved into. As such there's a gaps in comprehension and understanding about what's going on. Telling of others being in conflict, even if only fleetingly to explain why things are happening, still leaves a lot to be desired.
The erotica has some lovely heat, the main characters are delicious together. Melanie's succubus powers fascinate me in how they are described and act on others, especially Moses. The characters are strong, there's a plot and a purpose to the story. But when the ending comes, then the questions remain, especially what happens to Moses and Melanie from that point onwards.
The singular flaw here is that. What's happening, why it is, and what comes next. Melanie is a mystery. Saying she's a succubus is the beginning of telling that, but it isn't the ending. Changing who she is as her two sides being to merge is a story, but so is the internal struggle of want and need. Much is told well, but there's gaps and that bothers me.
Three and a half out of five pitchforks.
It's a little jarring to enter this story as there's quite a lot of "past" which isn't explained. As such, many of the characters do things, or are involved in events, that we simply have no reference to. That said, Melanie as a succubus interests me and I really wanted that to develop more than it did. The heat is fine, the characters have depth, but there's just something missing in not telling the story about Melanie's succubus self and why things are as they are.
External Links