Metamor City: Welcome to the City
Jump to navigation
Jump to search
Metamor City: Welcome to the City



Metamor City: Welcome to the City Revised eBook Cover, written by Chris Lester

Author(s)
Chris Lester
Series
Metamor City
Publisher
Liminal Corvid Press
Amazon Digital Services
Publication date
2002
July 18, 2012 (Reissue)
Media type
eBook
Length
33 Pages
ISBN
9781301637409
ASIN
B00ECKA4PK
Followed by
Metamor City: Troubled Minds
For other uses of the word Succubus, see Succubus (disambiguation).
For other uses of the word Incubus, see Incubus (disambiguation).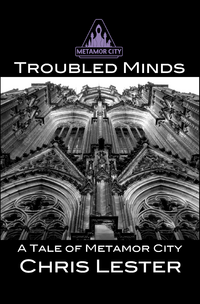 Metamor City: Welcome to the City is an eBook written by Chris Lester. It is described as being the first book of the Metamor City series by this author. In this series, both Succubi and Incubi appear. This, the first book in the series, makes only a passing reference to them, but they are central beings in the following two books in the series. The book series also connects to a Podcast called The Metamor City Podcast where additional stories in this universe are told.
Overview
Title: Metamor City: Welcome to the City
Author: Chris Lester
Published By: Liminal Corvid Press & Amazon Digital Services
Length: 33 Pages
Format: eBook
ASIN: B00ECKA4PK
IBSN: 9781301637409
Publishing Date: 2002
July 18, 2012 (Reissue)
Other Works in this series on SuccuWiki
Plot Summary
Rookie cop Michael Perelli begins his first day on the job in Metamor City, a glittering and glorious place where the buildings rise as high as mountains and magic and technology intertwine. But not everything is beautiful in the Jewel of the North, and as veteran detective Kathryn Kitaen shows him the ropes, Michael begins to wonder if he's in over his head...
Book Review
The following review was first published by Tera on her Blog, A Succubi's Tale on August 4, 2013
Michael arrives in Metamor City and starts his first day of work as a Homicide detective, and he learns some of the good and some of the bad that will occupy his life.
The story is an excellent introduction to this world, how it came to be, how things work, how they don't and some of the beings that exist there. Through his tour, Michael is told of some of the more exotic beings that exist in the city, meets a few of them, and in the end gets involved in something that could lead to other stories for him.
There is a brief mention of Incubi and Succubae, as they are called in this series in the plural form. What is more telling is that, at least for the law in this world, is that they are seen as being, if not evil, then undesirable. Also, what is interesting is that people can be "cursed" and become creatures like these.
It would be interesting to see a story about this, but this work isn't of that. It is an info dump hidden within a day in the life of a newcomer to the city. Personally, I think this is an exceptionally good idea and I will have to remember it for my own use sometime…
Nothing erotic in this work, though Michael does have a moment that was both funny and sexy which I will not spoil here. Again, well written and recommended.
Four out of five pitchforks.
External Links