Metamor City: The Sentinel
Jump to navigation
Jump to search
Metamor City: The Sentinel



Metamor City: The Sentinel Revised eBook Cover, written by Chris Lester

Author(s)
Chris Lester
Series
Metamor City
Publisher
Liminal Corvid Press
Amazon Digital Services
Publication date
2007
July 20, 2012 (Reissue)
Media type
eBook
Length
19 Pages
ISBN
9781301671700
ASIN
B00EDWER32
Preceded by
Metamor City: The Cuckoo
For other uses of the word Succubus, see Succubus (disambiguation).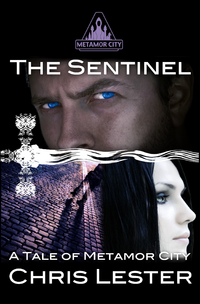 Metamor City: The Sentinel is an eBook written by Chris Lester. It is described as being the fourth book of the Metamor City series by this author. In this series, both Succubi and Incubi appear. In this work, a Succubus appears as one of the main characters. The book series also connects to a Podcast called The Metamor City Podcast where additional stories in this universe are told.
Overview
Title: Metamor City: The Sentinel
Author: Chris Lester
Published By: Liminal Corvid Press & Amazon Digital Services
Length: 19 Pages
Format: eBook
ASIN: B00EDWER32
IBSN: 9781301671700
Publishing Date: 2007
July 20, 2012 (Reissue)
Other Works in this series on SuccuWiki
Plot Summary
Agent Janus Starson is the regional field commander of the Lothanasi Order, an elite international law-enforcement unit tasked with protecting mortals from supernatural creatures. In the line of duty he has slain demons, faeries, and monsters of every description — but when the search for a missing girl leads him to the lair of a powerful succubus, it may require a more delicate approach.
Book Review
The following review was first published by Tera on her Blog, A Succubi's Tale on August 4, 2013

A child has gone missing in Metamor City. One of the authorities, known as Starson, is in search of her. After getting a lead, he discovers that the child has found refuge in what he thinks is a typical den of Succubi. But he is wrong. They are not typical, and the Succubus that leads them is more than he can understand.
There are really only two main characters in this work, one, named Starson who is arrogant, cares only for himself and the power he yields. I really didn't think much of him, his actions, or his reasoning most of all.
And that is really how the Succubus in this story, Isri Fallon. Oh how I love her so very much. She needs no horns, or tail, or to look anything like that what Succubi are told to be. She is herself, and in being that she reminds me of myself. Well read, well experienced in life and morals, she is nothing like the typical Succubus that she is expected to be.
So very much like the Succubus me in fact that I really took pause when she appeared in the story and took complete control of it. She does not speak in words of force, but intelligently, in a way that attempts to teach Starson that his attitude and beliefs are not as they should be for all that he does.
It is a lesson, a good, clear, strong lesson the he however completely misses which, considering his personality, was not a surprise.
This is not a piece of erotica, it is a lesson of the taking of power is not the same thing as the wielding of that power. He is loud, she is quiet. He is overbearing in his actions, her words speak loudly and her actions simply reinforce who she is.
If he is supposed to represent the light in this city, that light is dim and coloured unlike the purity of Isri's actions here. The purpose of one's actions should be for the better of those that have no power. A lesson that Starson never seems to see for being important.
Really well written, I enjoyed the story immensely. The house of Succubi is lovely and seems very much like that my Succubi self would want to have. And the one other Succubus that appears in the work, while a bit more ill tempered, is young and will learn eventually I am sure.
I'll give this work four pitchforks out of five.
Would have loved to know more about Isri, but otherwise a wonderful tapestry of a tale…
External Links