Metamor City: The Cuckoo
Jump to navigation
Jump to search
Metamor City: The Cuckoo



Metamor City: The Cuckoo Revised eBook Cover, written by Chris Lester

Author(s)
Chris Lester
Series
Metamor City
Publisher
Liminal Corvid Press
Amazon Digital Services
Publication date
2004
July 18, 2012 (Reissue)
Media type
eBook
Length
36 Pages
ISBN
9781301718207
ASIN
B00EF657QC
Preceded by
Metamor City: Troubled Minds
Followed by
Metamor City: The Sentinel
For other uses of the word Incubus, see Incubus (disambiguation).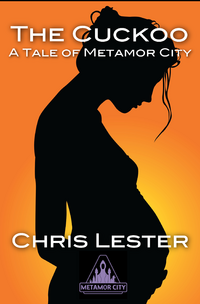 Metamor City: The Cuckoo is an eBook written by Chris Lester. It is described as being the third book of the Metamor City series by this author. In this series, both Succubi and Incubi appear. In this work, an Incubus appears as one of the main characters. The book series also connects to a Podcast called The Metamor City Podcast where additional stories in this universe are told.
Overview
Title: Metamor City: The Cuckoo
Author: Chris Lester
Published By: Liminal Corvid Press & Amazon Digital Services
Length: 36 Pages
Format: eBook
ASIN: B00EF657QC
IBSN: 9781301718207
Publishing Date: 2008
July 17, 2012 (Reissue)
Other Works in this series on SuccuWiki
Plot Summary
John is an incubus, chosen by the Goddess of Lust to seduce new and wealthy converts to the cause of Hedonism. So what happens when the incubus unexpectedly falls in love with his target?
Book Review
The following review was first published by Tera on her Blog, A Succubi's Tale on August 4, 2013
John is an Incubus, one of the best of his kind. His kind have placed him on a mission, but what happens when that mission becomes lesser to something so much more important?
I think that this work is the best one of all. There is so much to like that it's hard to decide where to begin exactly. The society of the succubi and incubi is well established, the leadership, the beliefs, the personalities are all wonderfully displayed.
While there is a lot of politics in this story, they both are a boon to the work and somewhat hold it back from being something more. Or at least until John realizes something he thought he would never experience and that changes everything. While the politics of this world return in force at the climax, they are more than esoteric. They bring a realization of how this world is not always black and white but shades of grey. The grey being not just in those that are changed and other in nature, but also to those that call themselves "simply humsn."
Wonderful loving moments in this work add to what I enjoyed. The erotic moments were not over the top, but in fact seductive in a way that only, at least in this world, a succubus or incubus could create.
I liked that John has aspects of the classic incubus in him, but no hooves which I was very thankful for. It also was interesting that he could shift between his male form and female forms as well. It was an aspect of the legend of succubi and incubi that isn't seen much and I was quite pleased to see it here.
The most involved, detailed, descriptive piece of writing in the series and one that I recommend for those that like a story with intrigue, a plot that stays true from beginning to end, and characters that are very real and that you care about, this work succeeds.
Five out of five pitchforks.
Well enjoyed and recommended. My only wish would be another story about John and the succubi and incubi society he exists within.
External Links