Masquerade (eBook)
Jump to navigation
Jump to search
Masquerade

Masquerade eBook Cover,
written by Dani Matthews
Author(s)
Dani Matthews
Series
Cherry Creek
Publisher
Dani Matthews
Publication date
November 28, 2015
Media type
eBook
Length
220 Pages
ASIN
B018POT4ZY
Preceded by
The Demon Within
Followed by
Reaper
For other uses of the word Succubus, see Succubus (disambiguation).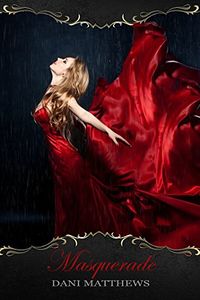 Masquerade is an eBook written by Dani Matthews. It is the third work in the Cherry Creek series by this author. In this work one of the main characters is a Succubus.
Overview
Title: Masquerade
Author: Dani Matthews
Published By: Dani Matthews
Length: 220 Pages
Format: eBook
ASIN: B018POT4ZY
Publishing Date: November 28, 2015
Other Works in this Series on SuccuWiki
Plot Summary
I foolishly thought that everything would change when I turned eighteen. I'd thought that becoming a legal adult would somehow vanquish all my problems, and I would be free to be whoever I wanted to be.
I was wrong.
After experiencing the worst possible scenario where my supernatural genes are concerned, I've learned that there is no running from being a Deveroux. Khristos's name will follow me wherever I go, and my best chance for survival is to take my place with my family.
If finding my place in this new world isn't tough enough, my mother unexpectedly arrives with the expectation of reconnecting with me. I'm not sure what to do or how I feel about her sudden appearance, and I'm torn with how to handle her. Do I follow Khristos's advice and send her back out of town, or do I give her a chance to explain herself? She is my mother after all.
Then there's the soul reaper. He's back, and he wants something in return for the necklace he'd given me. I'm not sure I can give him what he wants, but if I don't, the charmed necklace will be lost to me, and my newfound family will be in danger. How do I go against my natural instinct to protect and do the unthinkable instead? I have to choose, and no matter what choice I make, it will change everything.
If all that isn't stressful enough, the Halloween masquerade is quickly approaching, and the last thing I want to do is let down Tate or Roman. They are expecting me to be there, and I've been promised that it'll be a night of mystery and magic.
I've accepted that this is my life now. It will never be calm, it will never be easy, and it most definitely won't ever be predictable. The old me, Livvy Vauss, is no longer.
I am a Deveroux.
Book Review
At the time of this article's entry in the SuccuWiki, no review was available. Tera has this work on her reading list and will review it shortly.
External Links