Loves to be Loved (Erotica a la carte: Evening Entrees)
Jump to navigation
Jump to search
Loves to be Loved



Loves to be Loved eBook Cover, written by Phillippa Ballantine

Author(s)
Phillippa Ballantine
Publisher
ImagineThat! Studios
Publication date
August 23, 2011
Media type
eBook
Length
13 Pages
ASIN
B005J0IBV6
For other uses of the word Succubus, see Succubus (disambiguation).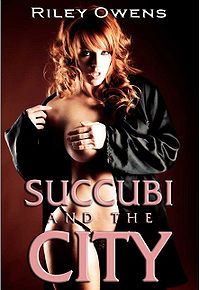 Loves to be Loved (Erotica a la carte: Evening Entrees) is an eBook written by Phillippa Ballantine. In this work a group of succubi living in New York go out on the town and find out that things are not always what they seem to be. This work was re-released as Succubi In The City on January 21, 2012 with the author's name changed to Riley Owens on the cover.
Overview
Title: Loves to be Loved (Erotica a la carte: Evening Entrees)
Republished As: Succubi In The City
Author: Phillippa Ballantine
Published By: ImagineThat! Studios
Format: eBook
Length: 13 Pages
ASIN: B005J0IBV6
Publishing Date: August 23, 2011
Publishing Date (As Succubi In The City): January 21, 2012
Plot Summary
In the hedonistic world of New York in the late 70s, four succubi go looking for the next meal. One of them however finds quite a new taste.
Book Review
The following review was first published on Tera's Blog - A Succubi's Tale on May 27th, 2012

Four succubi go into a bar looking for some tasty snacks… no, it's not a joke but yes I can see how that might come to mind with the plot of this work.
The succubi of the story, Selene, Callidora, Melia, and Charis, very much look like the stereotypical parry girls of the 70s, but they are succubi, they do need to feed and in the open sex scenes of the time that's not a difficult thing to do.
Interestingly, the story does tell us that these for are the oldest of the succubi, that generally most of them hunt alone, but they have managed to form a coven for lack of a better word, and they seem to be getting along well… except for Callidora.
Her friends all find meals that night, but she's left out of things, mostly because she has become jaded to all of the things around her. There isn't anything new or fresh… but then something, or rather someone arrives, and that changes things…
One thing bothered me about the story and that was the point where Calli went from being logical and focused to out of control. It seems to me that a older succubus would have more control than that, but then the rest of the succubi also seemed not to have a lot of control past a certain point in the story.
Setting that aside, there is a lot to like about how the succubi act, and what they do to the ones they choose to feed upon that night. Some very hot and sexy scenes with lots of succubus powers being seen…
But no tails or horns.
That's probably my one disappointment in this work.
Still, it is understandable why that would be, they were in public after all and it wasn't made clear if they did have them, though there is a hint, based on another character that Calli meets that might mean that they were hiding them…
A hot, good read and I just wish that there was more to come about these succubi…
Four pitchforks out of five…
More story, more about the succubi and perhaps seeing their horns and tails would have been nice too…
External Links