Lost Girl ConFAEdential
Jump to navigation
Jump to search
"Lost Girl ConFAEdential"
Lost Girl episode



Lost Girl ConFAEdential Intertitle

Episode no.
Season 3
Episode Special
Overall Episode 36A
Production Code
301A
Original Air Date
January 6, 2013
Length
60 minutes (runtime)
Episode Chronology

Short Summary List of Lost Girl Episodes
Detailed List of Lost Girl episodes


A primer before the Third Season premiere with the cast discussing the series

SuccuWiki Rating: (Not Rated)
For other uses of the word Succubus, see Succubus (disambiguation).
Lost Girl is a Canadian developed and produced television series which premiered in the 2010 season on the television channel Showcase.

For further on Bo, the succubus of the series, see her article in the SuccuWiki here. For the series itself, see that article here. For a general discussion of Succubi and their mythos in the series, see that article here.

Lost Girl ConFAEdential was a special show that aired before the season premiere for the third season of the series. It was first shown on the Showcase Television Channel in Canada on January 6th, 2013 at 8 PM Eastern time. The purpose was to act as a primer to the third season and a chance for the cast to talk about their characters and the series in general. The episode was hosted by Jay Firestone, executive producer of the series. The episode was taped in one of the backstage rooms of the Lost Girl sets.
Production Data
Series: Lost Girl
Season: 3
Episode Number: Special (301A)
Episode Title: Lost Girl ConFAEdential
Host: Jay Firestone
Show Credits: None Listed
Production Company: Prodigy Pictures
Running Time: 60 Minutes (Including Commercials)
Country of Origin: Canada
Originally Aired on: January 6th, 2013 on the Showcase Television Channel in Canada
Number of Canadian Viewers: Not Released
Number of American Viewers: Not Shown
Cast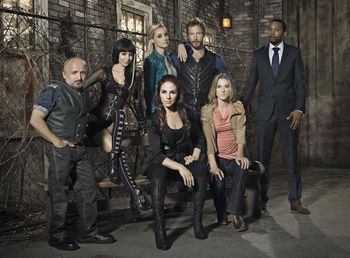 Plot
The show opened with Jay Firestone, executive producer of Lost Girl backstage at the Lost Girl soundstage. He introduced the program as being a chance to hear what the cast thought of the first two seasons and give a little tease to the third season. Entering one of the sets, he greeted the main cast of the series: Richard Howland, Ksenia Solo, Anna Silk, Kristen Holden-Reid, Zoie Palmer and K.C. Collins. He asked the cast to introduce themselves before asking each of the cast to talk about how their characters have changed their lives. Anna Silk defined it as she making Bo more human and Bo making her tougher. After a flashback to the first episode of the series where Dyson told Bo how to win, Kristen Holden-Reid says that it was interesting to tap into the wisdoms that he had been told in his life. Ksenia Solo's reply was that she had never played a comedic role before and she still worries that she won't be funny. Following this, several "Kenzisms" of past episodes were shown.
K.C. Collins then answered the question saying that Hale was like the person you once knew as a child and then became something you never expected them to be before some past scenes of Hale were shown. He continued talking about how Hale changed in season two before some of Hale's second season scenes were shown. Richard Howland then talked about the differences between himself and Trick noting that he used to tell everything about himself, but playing Trick taught him that he could keep some things secret from others before a scene between Trick and Kenzi was shown. Finally, Zoie Palmer talked about how she really never knew where Lauren was going in the series and that made things difficult sometimes for her followed by a scene of Lauren and Bo being intimate together and the scene where Bo accuses Lauren of betraying her for The Ash. She then talked about how Lauren brought out her "nerdy" side and that was followed by a scene of Lauren speaking scientifically. Jay Firestone then asked the cast about the Lost Girl fan base to which Anna Silk commented that you cannot actually say who a Lost Girl fan is because they are all different from one another save for their enjoyment of the series.
The discussion then turned back to Kristen Holden-Reid and the changes that Dyson has been through in the series which were reviewed with clips from the first two seasons. He then talked about how hard it was during the second season to play Dyson not having love in him and what a struggle that was as an actor to try and portray. Then the conversation turned back to Zoie Palmer and the love triangle between Bo, Dyson and Lauren, and the emotional roller coaster that Lauren went through during season two. She then talked about how difficult it was to play Lauren after Nadia's death in the series, and where that took her in how she understood the character.
Following a commercial break, Jay Firestone asked Kenzi Solo why the cast all have a special relationship with Kenzi. She speaks of her thoughts that Kenzi is fearless and that helps her to become a warrior in her own right as she has to deal with being surrounded by Fae that could kill her in a moment if they wanted to. Jay Firestone then recalls the first scene they ever shot with Kenzia and she remembers that they didn't have a line for her and she had to pick one at the last moment before the scene was filmed. A question from a fan was then posed asking if she ever reads a Kenzi line and thinks "I can't believe I have to say that." Her answer is that happens every day, but then tells the truth which is that she's thrilled when she has a good line to use. K.C. Collins then compliments her on her abilities with comedy both in the series, but also at other times.
Richard Howland is then asked if he had ever played a similar role and his answer is no. He then tells of his previous roles that were creatures and how thrilled he was to be able to have a role where he looked like himself and could really put himself into a role that matters. He also talks about the relationships that Trick has with Bo, Dyson and Hale and how those moments in the series were some of the best moments for him as an actor. K.C. Collins is asked about Hale next and how that character is a "rich kid" going against the wishes of his family. He tells that it was good to be able to show how and why Hale made the choices he did and also talks about what happened in the second season between Hale and Dyson.
Another commercial break and then Jay Firestone asks who is the goofiest one of the cast to which Richard Howland says that Kristen Holden-Reid is the one for physical comedy, Kristen Holden-Reid tells that Zioe Palmer is the more intellectual comedy one. This leads to two reveals: one is that Kristen Holden-Reid will drop his pants on occasion to get a laugh from others, and the second from Anna Silk that she fell asleep during one scene when they were filming at four in the morning.
That leads to part of the Lost Girl blooper reel which had been shown at the 2012 Fan Expo of various slip-ups and blunders the cast had made. The cast is then asked how they prepare for their roles and that leads to Kristen Holden-Reid talking about growling before playing Dyson. The next question asks about the toughest scenes in the series. Anna Silk and Zoie Palmer talk about Anna having to spend six hours in a fight scene and then have to play an intimate scene with Zoie immediately afterwards. Then Kristen Holden-Reid talks about reacting to something that isn't there and how confusing that can be sometimes for the entire cast as they sometimes don't look at the right spot and the problems that creates.
Then a fan question is posed about the cast using Twitter and asking Kenzia Solo why she took so long to be on Twitter which she answers explaining that she didn't think she could share herself on it very much. But she also notes that the ability to share the causes she supports on Twitter has meant a great deal of support for them from her followers. A question is then asked of Jay Firestone of the process of filming and the first scene ever shot of the series. The answer is that the first scene shot was shown in Episode 8 of the first season where Bo is seen walking down a hallway. He also reveals that in fact that hallway was an accidental find as well as the freight elevator seen in that particular scene.
Following another commercial, the cast were asked what was the best and the worst part of working on Lost Girl. Richard Howland said the best was the cast and crew of the show, the worst were the vests he has to wear that never quite work right. Zoie Palmer agreed the best was the cast, Anna Silk spoke of how hard to was at the end of each season to say goodbye. Kristen Holden-Reid said the worst was the hours and Kenzia Solo agreed the best was the crew but also the fans of the series. Then Anna Silk and Zoie Palmer were asked about the fan reaction to Bo and Lauren's relationship. Anna spoke of the many fans that spoke positively about the way that relationship is portrayed on the series and how it has helped to define many of their fan's understanding of themselves. Zoie then talks about how the relationships on the show are very real and that is something not often seen.
A fan question was posed next which asked what the cast has learned through their character. Anna returned back to her thoughts earlier that Bo has made her a stronger person overall, although sometimes how Bo acts creeps into her day-to-day activities. Jay Firestone then notes that every symbol seen on the show has a root in mythology and then asks what the tattoos on Kristen Holden-Reid's back mean. Kris explains that one is his own personal tattoo that he had made a long time previous to the show and the other, on his arm, is from the show and it is from hobo mythology. The symbol itself means "teeth of the dog" which was a warning for hobos that a vicious dog was at the location the symbol was found.
Anna was then asked what it was like to work with Kris and Zoie as lovers in the series. Anna calls it a "very comfy triangle." She then turns to the relationship with Kris as Dyson and notes that it is the first relationship that Bo has with one of the Fae and that Bo could trust him. Then Anna refers to Zoie as "Hot Lips Houlihan" and the instant attraction between the two of them.
Another commercial break later and a series of fan questions were answered. The first being favourite episodes. Kenzi loved Dyson as a Guidance Counsellor in School's Out. Kris noted that for the cast as a whole, the best might have been the episode Original Skin, when they played each other's characters and that he thought it was great that he was able to play Kenzi in Dyson's body. The next question asked about the Dark and Light sides of the Fae and if those lines would be blurred again in the future after what happened with Ryan in the second season. Anna talked about how that relationship help Bo to see that not everything was black and white in the world she lives in. Ksenia then is asked a question about her being involved in an anti-bullying and if that influenced the character of Kenzi or if it was vice-versa. She then explains that she feels that Kenzi was bullied in her past, those events making her a stronger person, however she also explains that when she was young, she was bullied and that has effected her life. She talks about how she wonders about Kenzi's past, her family and would like to explore that further is she could in the series, adding that if Kenzi became a campaigner for the cause, she would be thrilled with that happening.
Jay then reads a fan statement which says simply that the show treats the viewers like adults. Anna notes that there are lessons in the series, but they do not insult the viewer in how they are presented to them. Rick notes that the writing of the series does not "point out" things about the characters such as the lesbian relationship between Bo and Lauren or that Trick is not as tall as the other characters and that it is nice to be given a role where you are respected. The next question asks what Zoie thinks about Lauren attaining sex symbol status and how she is dealing with that. She replies that it is lovely and she is comfortable with it and sends her thanks to all.
The next commercial break brings the teasers for season three. Kris is asked what it means that Dyson has his love back again. His answer is that Dyson loves Bo and he will live with that for the rest of his days, but he also knows that Lauren and Bo are in love with each other as well. Ksenia is asked about the "rash" that Kenzi has at the end of the second season and her answer is that there are consequences to every action and in this case, for Kenzi, the consequences are ten-fold. Zoie is then asked where Lauren is going in her relationship with Bo and replies that while there are open doors for the two, there is also a catch-22 in that Lauren knows what Bo is and what that could mean to her life. K.C. is then asked about Hale's relationship with Dyson as friends and his answer is that he hopes that it can stand the test of time. Rick is then asked about Trick and his thoughts are about how Bo will be facing an internal struggle and will need her grandfather even more. Finally turning to Anna, the last moment of season two is recalled with Bo's eyes glowing a bright blue and an evil look on her face. Anna talks about there being room for a dark side within Bo, but there will be a massive internal struggle within herself both physically and mentally throughout season three. But, she adds, it might not mean what fans think it does.
Zoie then stops Anna and asks if she dyed her hair, Kris mentions that Anna seems to have a glow about her and then the rest of the cast tease her about several different things about her before Anna reveals that she is pregnant with her first child and is expecting.
Jay then teases a bit more about season three, that changes for all of the characters are coming and asks if the cast are excited about them, which they all agree they are before a montage clip of scenes from the third season is played. Afterwards, Jay again thanks the cast and crew of the series for making this the most fun he has ever had before concluding the special asking the fans to remain involved as the cast share a toast and the special comes to an end.
Episodes
For a more detailed list see: List of Lost Girl episodes, or click on the individual episode titles for more in depth articles.
Lost Girl Series Episodes
Episode Review on Succubus.Net
No Review as this was not an episode of the series.
External Links