Last Call (Webcomic)
Jump to navigation
Jump to search
Last Call



Last Call Webcomic Splash Page

Author
Megan Steckler
Website
Drunkduck.com
(No Longer Available)
Current status / schedule
Abandoned
Launch date
December 3rd, 2007
End date
May 23rd, 2010
Publisher
Drunkduck.com
Genre(s)
Comedy
Fantasy
Life Issues
Rating(s)
Mature
For other uses of the word Succubus, see Succubus (disambiguation).

Last Call was a humor and slice-of-life webcomic created by Megan Steckler and released through Drunk Duck.com. The series began on December 3rd, 2007 and was a featured Drunk Duck webcomic on November 3, 2008. Originally the series updated every Tuesday, Thursday, and Sunday before moving to a random schedule and then being abandoned. The series' final comic was released on May 23rd, 2010.
The series focused on a woman in her thirties named Abby, the antics of her husband and friends, and her conversations with her best friend at a local bar, Lily, who happened to be an alcoholic succubus.
Series Information
Title: Last Call
Creator: Megan Steckler
Date Started: December 3rd, 2007
Last Update: May 23rd, 2010
Status: Abandoned
Publication History
Last Call was created in 2007 by Megan Steckler after she was inspired by a doodle of herself sitting miserably at a bar. She realized that interesting conversations occur in a bar setting, whether drunk or not, and thought it would make good content for a webcomic.
When Last Call launched in 2007, the main character worked at a LAN party room with a pirate theme, which included a bar aptly named "The Poop Deck." The LAN room and its characters were later scrapped to focus more on the events between the main character's husband and succubus friend.
There was no consistent plot or story line within the webcomic, though the occasional story arc is presented, mostly dealing with role-paying games, MMORPGs, and LARPing.
Last Call was rated Mature according to the Drunk Duck rating system (Content contains mature themes not suitable for children. May contain occasional obscenities, limited graphic violence, implied sex, mild nudity. No pornography, no graphic sexual acts, no Hentai, no unrelenting violence, or non-stop obscenities).
The series came to a close on May 23rd, 2010 after the release schedule became inconsistent. The series did not come to a close, but was stopped in the midst of a story arc.
Characters
Abby: The main character of the comic. Works at the "Gamer's Cove," a gaming haven for geeks, which also happens to be a pirate ship. She relieves stress by going to The Poop Deck (a bar on the top deck of the pirate ship), and getting a couple of shots of whiskey every so often. Abby thinks that everything happens for a reason, even if it's the little things.
Beau: Abby's husband. Works for some top-secret government agency and can't tell anyone about it. He likes to cook, but is extremely picky, so he won't eat what he makes. Beau enjoys life to the fullest and always has a smile on his face, even when he farts. He loves puppets and tends to communicate through them as often as he can.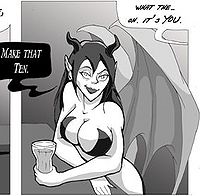 Lily: Abby's alter ego (or "inner animal," or "Tyler Durden" )--an alcoholic succubus. Lily does all the things that Abby wants to do, and more: goes bar-hopping, works the corner down the street, has a weekly orgy-fest, etc. Lily is basically a party girl times ten. She tries to get Abby to join in on the fun, but it almost always never works. No one can see Lily; they just see Abby having conversations with herself. ...But Abby doesn't know that (yet). She just thinks Lily is a costumed mascot working at the Gamer's Cove who likes hanging around the bar and yelling out obscenities.
Shawn: Abby's manager at the Gamer's Cove, and an ultra-gamer-geek. Shawn knows everything there is to know about video games, and then some. He loves pirates too, so he built a gaming haven out of a pirate ship and asked Abby to work for him. It sounded like a great idea at first, but little did she know how stinky and lousy it would get. Shawn has a pet parrot on his shoulder named "Dubloon," but he's really just there for decoration.
Caroline: Abby's friend, Caroline likes to think out of the box and then blow it up. She occasionally sits with Abby at the bar and they talk about nothing in particular, yet it passes the time. Sometimes Caroline comes up with great "nuggets of wisdom," and they have become an occasional feature in the webcomic, called Nuggets of Wisdom by Caroline.
JR: The charismatic bartender of The Poop Deck. If there was a real-life Jack Sparrow in this world, this guy would be it. He gives Abby worldly advice every so often, and Lily thinks he's kind of cute. Unfortunately for her, he's gay.
Puppy: Puppy is a canine companion of Lily's, and they go on crazy adventures together. It is not known whether Puppy is male or female, though she dresses up as a female stripper in one instance.
Evil Kid: Evil Kid always has an evil smile on her face, and Abby believes she is a spawn of Satan.
Gallery
External Links