Ksenia Solo
Jump to navigation
Jump to search
Ksenia Solo

Born

Ksenia Solo


October 8, 1987
Latvia[1]
Occupation
Actress
Years active
2000–present
Known for
Kenzi in Lost Girl
Awards
See Below
Ksenia Solo (born October 8, 1987) is a Latvian-born[1] Canadian actress, best known for her roles as Tasha on Life Unexpected and as Kenzi on Lost Girl.
Career
Solo played the role of Zoey Jones on the Aboriginal Peoples Television Network series renegadepress.com. In both 2005 and 2006, she won the Gemini Award for Best Performance in a Children's or Youth Program or Series for her work on the show. She went on to appear in other Canadian television series and movies, such as the films Love Thy Neighbor and Mayday, as well as guest-starring on the television series Kojak.
In 2010, Solo played a small role in Darren Aronofsky's Black Swan starring Natalie Portman and Mila Kunis.
Solo is currently co-starring in the Showcase series Lost Girl as Kenzi. She had a recurring role as Natasha "Tasha" Siviac in Life Unexpected. She was cast as Dodge in the pilot episode of Locke & Key,[2] but the series was not picked up by Fox.
Personal life
Ksenia Solo was born October 8, 1987 in Latvia. She was raised in Canada and is of Russian heritage, but currently lives in Los Angeles. Solo studied ballet until age 14, when a back injury forced her to stop.[1] Her mother is a former ballerina turned theatre actor.[3][4]
Role on Lost Girl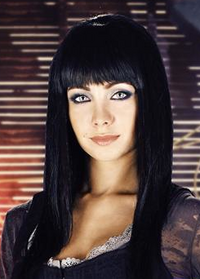 She plays the role of Kenzi, Bo's best friend and sidekick. She is human and acts as Bo's connection to her humanity through the series. She appears to be in her 20s in age and is a very gifted con artist and thief. She is fluent in Russian and is very street-smart. She had been living on the streets for years before meeting Bo after running away from her abusive stepfather. It has been implied that the abuse was sexual, which probably contributes to her difficulty in trusting others. Kenzi has proven to be, at many times, central to many stories on Lost Girl. She has an ongoing relationship with an old boyfriend, is loyal to Bo above all else, and has risked her life for Bo and her friends many times in the series.
Filmography
Film

| Year | Title | Role | Notes |
| --- | --- | --- | --- |
| 2001 | A Man of Substance | Hannah | Short film |
| 2003 | The Republic of Love | Micheline | |
| 2010 | Black Swan | Veronica | |
| 2011 | The Factory | Emma | |
Television

| Year | Title | Role | Notes |
| --- | --- | --- | --- |
| 2000 | I Was a Sixth Grade Alien | Xhanthippe | Episode: "Bride of Pleskit!" |
| 2000 | Earth: Final Conflict | Kathy Simmons | Episode: "Take No Prisoners" |
| 2001 | My Louisiana Sky | Abby Lynn Anders | TV movie |
| 2001 | What Girls Learn | Girl | TV movie |
| 2002 | Sins of the Father | Lucinda | TV movie |
| 2002 | Adventure Inc. | Natalie | Episode: "Village of the Lost" |
| 2003 | Defending Our Kids: The Julie Posey Story | Kristyn Posey | TV movie |
| 2004 | Missing | Megan Hahn | Episode: "Judgement Day" |
| 2004–2008 | Renegadepress.com | Zoey Jones | 42 episodes |
| 2005 | Kojak | Angela Howard | Episode: "All Bets Off: Part 1" |
| 2006 | Love Thy Neighbor | Erin Benson | TV movie |
| 2007 | Cold Case | Lena | Episode: "Cargo" |
| 2008 | Moonlight | Bonnie Morrow | Episode: "Fated to Pretend" |
| 2009 | Crime Stories | Waitress | Episode: "The Happy Face Killer" |
| 2009 | The Cleaner | Callie Bell | Episode: "Cinderella" |
| 2010–present | Lost Girl | Kenzi | Main Cast; Series Regular |
| 2010–2011 | Life Unexpected | Natasha Siviac | 13 episodes |
| 2011 | Nikita | Irina | Episode: "Alexandra" |
| 2011 | Locke & Key | Dodge | TV movie, completed (Unaired Pilot) |
Awards
Year
Nominated work
Award
Result
2013
Lost Girl
Canadian Screen Awards
Best Performance by an Actress in a
Featured Supporting Role Dramatic Program or Series
Nominated
2013
Lost Girl
Canadian Screen Awards
Best Supporting Actress, Drama
Nominated
2011
Lost Girl
Gemini Award
Best Performance by an Actress in a
Featured Supporting Role in a Dramatic Series
Won
2006
Renegadepress.com
Gemini Award
Best Performance in a Childrens' or Youth Program or Series
Won
2005
Renegadepress.com
Gemini Award
Best Performance in a Childrens' or Youth Program or Series
Won
References
External Links