Kris Holden-Ried
Jump to navigation
Jump to search
Kris Holden-Ried

Born

Kristen Holden-Reid


August 1, 1973


Pickering, Ontario, Canada

Nationality
Canadian
Occupation
Actor
Years active
1995–present
Known for
Dyson on Lost Girl
Kris Holden-Ried (born Kristen Holden-Ried, August 1, 1973) is a Canadian film and television actor. In 2007, he portrayed William Compton in the first seven episodes of the Showtime series The Tudors. In 2010, he landed one of the main starring roles in the television series Lost Girl. His character, Dyson, is a Fae wolf-shifter, employed in the human world as a police officer. He also played the role of Quint Lane, the mutated lycan, in the film Underworld: Awakening.
Biography
He studied at Montreal's Concordia University School of Business. At his first audition, he landed the leading role in 12th century drama Young Ivanhoe. Holden-Ried was a champion competitor in equestrian and fencing sports. He is a former member of the Canadian National Pentathlon Team and has a silver medal from both the Pan American and Pan Pacific Pentathlon Championships. He trained with Uta Hagen's Master Class Scene Study, with Janine Manatis as well as at the Green Room Actor's Workshop and the National Film Acting School.[1]
Role on Lost Girl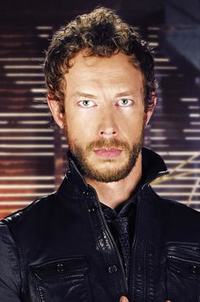 He plays the role of Dyson on Lost Girl. Dyson is a homicide detective in the human world, but is in fact a Fae called a wolf-shifter. He appears to be middle-aged but is at least several centuries in age. His history that has been revealed tells that Dyson spent centuries in Ireland serving a wolf-shifter king with his childhood friend, Stefan. After Stefan was betrayed by that king, Dyson became a lone wolf, left Ireland, and eventually came in contact with Trick.
At the time of the Lost Girl series, Dyson was operating both for the Ash and for Trick, as well as his human world role. He became intimate with Bo and over time gave himself to her, mating with her for life. He gave up that love to help Bo defeat her mother in the Season One finale. Over the course of the second season, he became more isolated and his relationship with Bo was torn apart. Through this, Ciara, the wife of Stefan, appeared and he began a relationship with her. Ciara was killed by The Garuda near the end of Season Two, which shattered Dyson further still. Eventually, with the help of Kenzi, he recovered his love for Bo from The Norn that took it from him. At the Second Season finale, he stood with Bo and his friends to defeat The Garuda and was on the path to recover his relationship with Bo.
Filmography
Film
Year
Title
Role
Notes
2013
Four Saints
John McCrae
as Kristen Holden-Ried
2013
Sex After Kids
Gage
2013
The Returned
Alex
2012
Three Days in Havana
Gordie
2012
Underworld: Awakening
Quint
2011
Textuality
Colin
as Kristen Holden-Ried
2010
The Untitled Work of Paul Shepard
Paul Shepard
2009
Santa Baby 2
Colin Nottingham
TV Movie
2009
Hidden Crimes
David Lester
TV Movie as Kristen Holden-Ried
2009
Deadliest Sea
Bear
TV Movie
2009
The Death of Alice Blue
Stephen
as Kristen Holden-Ried
2009
The Last New Year
Eric
as Kristen Holden-Ried
2008
The One That Got Away
Scott Lawton
TV Movie as Kris Holden Ried
2008
Never Forget
Andy
as Kristen Holden-Ried
2008
Girl's Best Friend
Jake
TV Movie
2008
A Broken Life
Mikhail
as Kristen Holden-Ried
2007
Emotional Arithmetic
Young Jakob
as Kris Holden-Reid
2006
A Stone's Throw
Jack Walker
2006
Niagara Motel
R.J.
as Kristen Holden-Ried
2005
Waking Up Wally:
The Walter Gretzky Story
Wayne Gretzky
as Kristen Holden-Ried
2005
The Many Trials of One Jane Doe
Harold Beckwith
TV Movie as Kristen Holden-Ried
2005
Big Girl
Gerry
Film Short as Kristen Holden-Ried
2005
My Uncle Navy and
Other Inherited Disorders
Uncle Navy
Film Short as Kristen Holden-Ried
2004
Touch of Pink
Giles
as Kristen Holden-Ried
2003
Ice Bound:
A Woman's Survival at the South Pole
Lunar
TV Movie as Kristen Holden-Ried
2002
K-19: The Widowmaker
Anton
as Kristen Holden-Ried
2002
A Killing Spring
Karl Hrynluk
TV Movie as Kristen Holden-Ried
2001
Chasing Cain
Troy
as Kristen Holden-Ried
2000
Girls Who Say Yes
Matt
Film Short as Kristen Holden-Ried
2000
Hendrix
Noel Redding
TV Movie as Kristen J. Holdenried
2000
Gossip
Bruce
as Kristen Holdenried
2000
The Crossing
Capt. Heineman
TV Movie as Kristen Holden-Ried
1999
Forget Me Never
TV Movie as Kristen Holdenried
1999
Young Ivanhoe
Ivanhoe
TV Movie as Kristen Holden-Ried
1998
The Defenders: Taking the First
McCann
TV Movie as Kristen Holden-Ried
1998
Going to Kansas City
Charlie Bruckner
as Kristen Holdenreid
1997
Night of the Demons III
Vince
as Kris Holdenreid
1997
When Innocence Is Lost
Kevin
TV Movie as Kris Holdenried
1997
Habitat
Daryl
as Kris Holdenried
1996
Rowing Through
Kurt Cruise
as Kristen Holden-Ried
Television

| Year | Title | Role | Notes |
| --- | --- | --- | --- |
| 2010-2013 | Lost Girl (TV Series) | Dyson | Lead ACtor |
| 2011-2012 | The Listener (TV series) | Adam Reynolds | 4 Episodes |
| 2011 | Republic of Doyle (TV series) | Joe | Episode: "Crashing on the Couch" |
| 2010 | The Bridge (TV series) | Mike Bodanski | 3 Episodes as Kristen Holden-Ried |
| 2010 | Ben Hur (TV mini-series) | Gaius | 2 Episodes as Kris Holden Ried |
| 2009 | Murdoch Mysteries (TV series) | Prussian Kaspar | 1 Episode as Kristen Holden-Ried |
| 2009 | Diamonds (TV series) | Denver Beeston | 2 Episodes |
| 2008 | M.V.P. (TV series) | Aleksei Protopopov | 4 Episodes as Kristen Holden Ried |
| 2007 | The Tudors (TV series) | William Compton | 7 Episodes as Kristen Holden-Ried |
| 2001-2004 | Degrassi: The Next Generation (TV series) | Tracker Cameron | 8 Episodes as Kristen Holden-Ried |
| 2003 | Starhunter (TV series) | Ritson | 1 Episode as Kristen Holden-Ried |
| 2003 | Street Time (TV series) | Dwayne | 3 Episodes as Kristen Holden-Ried |
| 2002 | Blue Murder (TV series) | Simon Alcorn | 1 Episode as Kristen Holden-Ried |
| 2001 | Paradise Falls (TV series) | Simon | 2 Episodes as Kristen Holdenreid |
| 2000 | The Secret Adventures of Jules Verne (TV series) | George Custer | 1 Episode as Kris Holdenreid |
| 1999 | Twice in a Lifetime (TV series) | Young Ken Stryker | 1 Episode as Kristan Holdenreid |
| 1997 | Riverdale (TV series) | Shawn Ritchie | as Kristen Holden-Ried |
References
External links