Incubus (Running Shoes)
Jump to navigation
Jump to search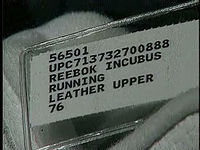 For other uses of the word Incubus, see Incubus (disambiguation).

Incubus was the name of a failed footwear line sold by Reebok in the United States of America.
During the latter half of 1995, Reebok, a sports clothing and footwear manufacturer had selected approximately 1,500 possible names for shoes to be released during 1996. One of these names was Incubus and the implications of that word were not realized until the shoes had come to market and were being sold as woman's footwear. The company was forced to recall the shoes which were being offered for sale at $57.99. The word Incubus did not appear on the shoes themselves, but on the boxes and the shoes were later sold under a different name.
Press Article
Several press articles explained the company's error and its response to its mistake:
Reebok International Ltd. said Wednesday it will change the 'nightmarish' name of one of its women's running shoes.

Reebok has shipped 53,000 pairs of its "Incubus" shoes in the last year, but found out only Tuesday that the name is that of an evil spirit that rapes women in their sleep.

"We apologize," said Dave Fogelson, director of public relations with Reebok. "Certainly it is very inappropriate."

He said the company found out about the embarrassing name after running an advertisement for it in an Arizona newspaper.

Fogelson said Reebok must find 1,500 new names for products each year and did not properly research the meaning of incubus when it found the name was not trade-marked.

"Obviously it became very apparent to us yesterday why nobody else was using the name," he said.

The Webster's dictionary defines incubus as "an evil spirit ... that has sexual intercourse with women while they are sleeping." Incubus is also described as a "nightmare" or "one that oppresses or burdens like a nightmare."

Fogelson said the name does not appear on the shoes, which have a suggested retail price of $57.99. But the company will take steps to remove the name from its boxes for the shoes.

"What people have to understand is this was an honest mistake," he said.[1]
References
↑

Reuters Press Article Wednesday, February 19, 1997
External Links