Holy Socks And Dirtier Demons (eBook)
Jump to navigation
Jump to search
Holy Socks And Dirtier Demons



Holy Socks And Dirtier Demons Original Book Cover, written by J.A. Kazimer

Author(s)
J.A. Kazimer
Publisher
Champagne Books (Original)
Obscure Publishing (Reissue)
Publication date
April 1, 2012 (Original)
July 31, 2017 (Reissue)
Media type
eBook
Paperback
Length
254 Pages
ISBN
978-1927454343 (Paperback)
ASIN
B007QXL8E6 (eBook)(Original)
B074G534NQ (Reissue)
For other uses of the word Succubus, see Succubus (disambiguation).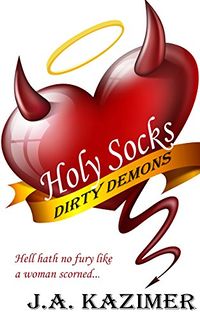 Holy Socks And Dirtier Demons is a novel written by J.A. Kazimer. In this work one of the characters is a Succubus.
Overview
Title: Holy Socks And Dirtier Demons
Author: J.A. Kazimer
Published By: Champagne Books (Original), Obscure Publishing (Reissue)
Length: 254 Pages
Format: eBook
ASIN: B007QXL8E6 (eBook)(Original), B074G534NQ (Reissue)
ISBN-10: 1927454344 (Paperback)
ISBN-13: 978-1927454343 (Paperback)
Publishing Date: April 1, 2012 (Original), July 31, 2017 (Reissue)
Plot Summary
What does a reluctant hero, a narcissistic angel, a Zen-spouting Buddhist, and a demonic feminist have in common? Why the search for a kidnapped Baby Jesus in New York City, of course. When a pint-sized Messiah and his guardian angel arrive on the doorstep of Jace Miller, a disgruntled former soldier, begging for help, Jace agrees to try and protect the Son of God from the forces of evil brewing beneath the City. Really, what choice does he have? After the baby Jesus is kidnapped, Jace enlists the help of Lilith, a private investigating succubus, to hep solve the crime. Faced with demons, monsters, and a growing desire for the demon PI, Jace learns how mysterious the Almighty can be, as Jace searches Heaven, Hell, and Newark for the Second Coming.
Book Review
At the time of this article's entry in the SuccuWiki, no review was available. Tera has this work on her reading list and will review it shortly.
External Links