Her Retribution (eBook)
Jump to navigation
Jump to search
Her Retribution

Her Retribution eBook Cover,
written by Rory Miles
Author(s)
Rory Miles
Series
Tainted Power
Publisher
Amazon Digital Services
Publication date
March 28, 2020
Media type
eBook
Length
339 Pages
ASIN
B086J8W3N6
Followed by
Her Reign
For other uses of the word Succubus, see Succubus (disambiguation).
For other uses of the word Incubus, see Incubus (disambiguation).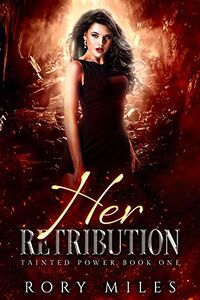 Her Retribution is an eBook written by Rory Miles. It is the first work in the Tainted Power series by this author. In this work both Succubi and Incubi characters appear.
Overview
Title: Her Retribution
Author: Rory Miles
Published By: Amazon Digital Services
Length: 339 Pages
Format: eBook
ASIN: B086J8W3N6
Publishing Date: March 28, 2020
Other Works in this Series on SuccuWiki
Plot Summary
I'm really f**king tired of dying. I've also had it with all the damn power plays and being used by the royals of Hell. There's only so much this immortal succubus is willing to put up with. I'm going to make them all pay for what they've done to me and my kin. Kill Lucifer himself? No problem. Overthrow the patriarchy? Damn straight, and my men are more than happy to help. Together, we can do anything. But my trust is at an all-time low, and I have to figure out which lovers I can trust and which ones I can't.
Book Review
At the time of this article's entry in the SuccuWiki, no review was available. Tera has this work on her reading list and will review it shortly.
External Links