Fury of the Succubus
Jump to navigation
Jump to search
Satan's Mistress



Fury of the Succubus Movie Poster

Directed by
James Polakof
Produced by
Beverly Johnson
Michelle Morgan
William H. Parker
James Polakof
Gary Rollason
John J. Smith
Written by
Beverly Johnson
James Polakof
Starring
Lana Wood
John Carradine
Britt Ekland
Kabir Bedi
Music by
Roger Kellaway
Cinematography
James L. Carter
Editing by
George Trirogoff
Release

date(s)

June 1982
Running time
98 min.
Country
USA
Language
English
For other uses of the word Succubus, see Succubus (disambiguation).

Satan's Mistress (also known as Demon Rage, Fury of the Succubus and Dark Eyes)[1] is a horror movie released in 1982. It is about a sexually frustrated housewife, Lisa (played by actress Lana Wood), who having been distanced from her husband (Don Galloway as Carl) begins having nightly trysts with an apparition that gradually takes on the form of a tall, dark stranger (played by Kabir Bedi of Octopussy) who turns out to be a ghost from the other side. The film gives higher screen credit to Britt Ekland, who had only a minor role but more star power. Lana Wood is known to many as Plenty O'Toole from the James Bond film Diamonds Are Forever. The film was released the same year as the similarly themed The Entity, differing in that the sex in Satan's Mistress is consensual. The film has a cameo by veteran horror actor John Carradine as Father Stratten.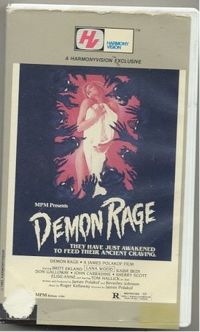 Overview
Release Date: June 1982
MPAA Rating: R - Sexual Content, Violence, and Language
Runtime: 98 minutes.
Director: James Polakof
Writers: Beverly Johnson, James Polakof
Studio: B.J. Creators, Diversified Film Ventures Ltd.
Citadel Films (1982) (Canada) (as "Satan's Mistress")
Harmony Film (video)
Motion Picture Marketing (MPM) (1982) (USA)
Vision Video (video)
Genre: Horror, Adult
Also Known As: Dark Eyes, Demon Rage, Demon Seed, Satan's Mistress
Tagline: Her wildest dreams are about to come true.
Cast
| | |
| --- | --- |
| Lana Wood | Lisa |
| John Carradine | Father Stratten |
| Tom Hallick | Burt |
| Britt Ekland | Ann-Marie |
| Sherry Scott | Michelle |
| Kabir Bedi | The Succubus |
| Elise-Anne | Belline, the spirit woman |
| Don Galloway | Carl |
| Howard Murphy | The Cowled Spirit |
| Alan Harris | Dave, teenager |
| Chris Polakof | Cissy, teenager |
| John Simon | Police Detective |
| Richard Alan | Demon |
| Michael Blackburn | Ambulance Driver |
| Rheya Ferrooh | Demon |
| La Donna | Demon |
| K. Strachuk | Demon |
| Bennett Waxman | Ambulance Attendant |
| Michelle Waxman | Demon |
Plot Summary
Horror movie about a frustrated housewife who begins having nightly trysts with a tall, dark stranger who turns out to be a ghost from the other side. Thus begins her descent into dementia, as she begins to distance herself even further from her husband and kids while painting portraits of her enigmatic new lover.
Critical Review
Review taken from the IMDb.
Rating: 1.8/10
Author: lazarillo
Review Date: 7 May 2007
A lonely and neglected housewife (Lana Wood) living in a deserted house on the beach takes a lover. Unfortunately, that lover turns out to be Satan! Her husband and teenage daughter are naturally upset by this turn of events and enlist a family friend (Britt Ekland) who is a spiritual medium and the latter's obnoxious husband to help them out, with disastrous results for everyone involved.
This movie kind of resembles both the mainstream film "The Entity" and the X-rated classic "Through the Looking Glass", but it is not as good as either. It is surprisingly low-budget and obscure movie considering that it features two former Bond girls--Lana "Plenty O'Toole" Wood and Britt "Holly Goodnight" Ekland. (okay, not two of the most talented former Bond girls, but still--). A cadaverous John Carradine also makes an appearance (but then he showed up pretty much every time he sensed the distant whir of a film camera). Ekland, very uncharacteristically, keeps her clothes on for the whole movie, but the busty Woods more than makes up for this as she repeatedly scromps naked with the horny demon, moaning ecstatically. The film is not bad, at least before the completely confounding ending, but there are few too many supposedly meaningful shots of the waves crashing onto the beach.
Not a good film perhaps, but not deserving of its current obscurity either.
References
External Links