Emmanuelle Vaugier
Jump to navigation
Jump to search

Emmanuelle Vaugier, born June 23, 1976, is a Canadian film actress, singer, model, songwriter and television actress who has had recurring roles as Detective Jessica Angell on CSI: NY, Mia on Two and a Half Men, Dr. Helen Bryce on Smallville, FBI Special Agent Emma Barnes on Human Target. In feature films, she has appeared alongside Michael Caine and Robert Duvall in Secondhand Lions. She also appeared as Addison Corday in Saw II and Saw IV, and had a supporting role in the Josh Hartnett film 40 Days and 40 Nights.
She has appeared in the Canadian television series Lost Girl, playing the role of the Leanan Sídhe Dark Fae Evony Fleurette Marquise, better known as The Morrigan in two first season episodes, three second season episodes and two episodes in the third season.
Biography
She was born on June 23rd, 1976 in Vancouver, British Columbia and grew up in a French-speaking Roman Catholic household becoming fluent in French.[1] She attended Crofton House School, an all-girls private school, for 10 years until she transferred to Magee Secondary School, for the last two years of high school.[2] Currently she divides her time between Los Angeles and Vancouver.
Career
Television
In 2004, she played Lindsey Kellogg on the short-lived Fox Television series North Shore. She also had guest-star spots on Veronica Mars, Supernatural, The Outer Limits, Higher Ground, Andromeda, and Charmed. She appeared in the Emmy Award nominated miniseries The Beach Boys: An American Family where she portrayed Mike Love's wife, Suzanne. She had a starring role in MOW Veiled Truth for the Lifetime Network. She also appeared in the first two seasons of One Tree Hill, as Nicki, Jake's ex-girlfriend and mother to their child, Jenny.
She portrayed Dr. Helen Bryce, the love interest of Lex Luthor, on the WB drama Smallville from 2002 to 2003. From 2005 to 2006, she guest starred in six episodes of Two and a Half Men as Mia, a ballet teacher who Charlie Harper fell in love with and almost married. In 2005, she played the title character in the Painkiller Jane television movie for the Sci Fi Channel.
She had a recurring role from 2006 to 2009 on CSI: NY as Detective Jessica Angell but left the show after the fifth season due to budget cuts.[3] During the series, Angell was in a serious relationship with Detective Don Flack.
She appeared in two episodes of the Fox series Human Target as FBI agent Emma Barnes and currently plays a recurring role on Lost Girl as The Morrigan, the leader of the Dark Fae.[4]
Film
She starred as Addison in Saw II and Saw IV and In the Canadian film Unearthed, she played Annie, the sheriff of a small rural desert town. She also appeared in the film 40 Days and 40 Nights. She also had roles in Suddenly Naked, in which she plays a Latin pop sensation; the television movie Mindstorm, a science-fiction thriller; and Ripper, a psychological thriller about students who mysteriously disappear after enrolling in a class about serial killers. She has also appeared in the sequel to Mirrors.[5]
Maxim magazine featured her on the cover of the February 2006 issue released in the United States. She was listed as number 31 on their annual Hot 100 list.[6][7]
Games
She has performed vocal character work in Need for Speed: Carbon as Nikki who acted as the helper to the main character in the game. She also played Nightingale in The House of the Dead 2.
Role on Lost Girl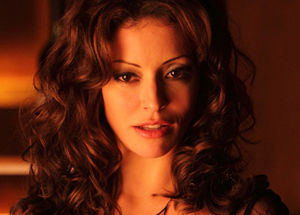 She played the role of The Morrigan in the following episodes: Season One: It's a Fae, Fae, Fae, Fae World, Faetal Justice. Season Two: It's Better to Burn Out Than Fae Away, Table for Fae, and Into the Dark. Season Three: ConFaegion, and The Kenzi Scale.
The Morrigan, proper name Evony Fleurette Marquise, was a Dark Fae Leanan Sídhe who was the leader of the Dark Fae through three seasons of the series. When she first appeared in It's a Fae, Fae, Fae, Fae World, she confronted Bo over her allegiance and attempted to have her choose a side which Bo did not. At the end of the episode when discussing Bo with Trick she stated her preference to have Bo killed and has kept this view of her since this time making her an adversary to Bo throughout the series.
In Faetal Justice she came to odds with Bo over the apparent death of another Dark Fae who was a friend of Vex. She attempted to have Dyson delivered to her for his apparent crime and did finally have the chance to force a confession from him. However Dyson was rescued and she was left to deal with another Fae who had done the deed. Regardless of this, her opinion of Bo and her friends remained poor and she continued to look for ways to take a measure of revenge against Bo.
She returned in the second season episode It's Better to Burn Out Than Fae Away where she hired Bo to locate an artist that was painting murals of her and Vex's actions all over the city. Bo delivered on this and in return The Morrigan gave Bo a small box which contained the item that was the cause of the curse under which Nadia, Lauren's lover, was under.
During Table for Fae, Ryan contacted her to see Kenzi's boyfriend Nate about a recording contract in her human world role as a talent agent. Kenzi made a deal with The Morrigan in order to save Nate's live which meant that Kenzi owned her a favor to be collected on in the future.
During Into the Dark, Vex controlled her body and made her perform acts which resulted in his imprisonment. However this was a plan that Vex had to protect himself. In the end, do to his actions, The Morrigan dismissed Vex from her presence and he lost his title and other status he had among the Dark Fae as a result.
She appeared again during the third season episode ConFaegion where she used Vex to deliver a parasite into Bo, Dyson and Tamsin and then told Vex he needed to kill the three of them to regain his position. However, Vex decided to not carry out The Morrigan's plans, turning against her.
Currently her last appearance was in the episode The Kenzi Scale where she ordered Tamsin to wake up a Dark Fae who was in a coma to prove that Bo had assaulted him. Her goal was to then have Bo put to death for doing so. Tamsin obtained the proof, but did not give The Morrigan the evidence thus making her an enemy of The Morrigan.
It is unknown when The Morrigan will return to the series, but it is a certainty she will at some point.
Filmography
Year
Title
Role
Notes
1995
A Family Divided
Rosalie Frank
TV Movie
1995
Highlander: The Series
Maria Alcobar
Episode 4.10
1996
Madison
Noella D'Angelo
9 episodes
1996
The Halfback of Notre Dame
Esmerelda
TV Movie
1996
Home Song
Cheerleader
TV Movie
1996
The Limbic Region
Jennifer Lucca - age 21
TV Movie
1997
Breaker High
Monette
Episode 1.11
1997
Police Academy: The Series
Sally
Episode 1.03
1997
Ninja Turtles: The Next Mutation
Episode 1.12
1998
Hysteria
Veronica Bloom
Film
1998
First Wave
Esther
Episode 1.07
1998
Dead Man's Gun
Rose Harris
Episode 2.10
1998–1999
The Outer Limits
Shal
Lisa Dobkins
Episodes 4.08
and 5.05
1999
Viper
Mitzi / Olga
Episode 3.11
1999
Assault on Death Mountain
French Woman
TV Movie
1999
Shapeshifter
Anika
Film
1999
The Fear: Resurrection
Jennifer
Film
1999
Seven Days
Princess Lisette D'Arcy
Episode 2.09
2000
The Beach Boys: An American Family
Pamela
TV Movie
2000
Higher Ground
Elaine Barringer
4 episodes
2000
My 5 Wives
Sarah
Film
2000
The Sculptress
Sylvie
Film
2000
Level 9
Christina Veedy
Episode 1.13
2000
So Weird
Donna
Episode 3.13
2001
Largo Winch: The Heir
Nikki
TV Movie
2001
Mindstorm
Tracy Wellman
Film
2001
Big Sound
Veronica
Episode 1.09
2001
Wishmaster 3: Beyond the Gates of Hell
Elinor Smith
Direct to Video
2001
Ripper
Andrea 'Andy' Carter
Film
2001
Return to Cabin by the Lake
Vicki
TV Movie
2001
Suddenly Naked
Lupe Martinez
Film
2001
MythQuest
Persephone
Episode 1.04
2002
40 Days and 40 Nights
Susie
Film
2002
Beyond Belief: Fact or Fiction
Susan
Episode 4.02
2002
Charmed
Dr. Ava Nicolae
Episode 5.06
2002
My Guide to Becoming a Rock Star
Sarah Nelson
11 Episodes
2002
Just Cause
Louisa Bennett
Episode 1.09
2002–2003
Smallville
Dr. Helen Bryce
9 episodes
2003
Secondhand Lions
Jasmine
Film
2003
Water's Edge
Rae Butler
Film
2003
The Handler
Angie
Episode 1.11
2004
Call Me: The Rise and Fall of Heidi Fleiss
Lauren
TV movie
2004
North Shore
Melinda Lindsey Kellogg
Episodes 1.12
and 1.13
2004
Veronica Mars
Monica Hadwin Greenblatt
Episode 1.10
2004–2005
One Tree Hill
Nicki
10 episodes
2005
Cerberus
Dr. Samantha Gaines
TV Movie
2005
Andromeda
Maura
Episodes 5.21
and 5.22
2005
House of the Dead 2
Alexandra 'Nightingale' Morgan
TV Movie
2005
Love, Inc.
Girl
Episode 1.06
2005
Saw II
Addison Corday
Film
2005
Painkiller Jane
Capt. Jane Elizabeth Browning
TV movie
2005–2011
Two and a Half Men
Mia
11 episodes
2006
Monk
Pat - Juror No. 12
Episode 4.16
2006
Veiled Truth (aka What Comes Around)
Carolyn
TV Movie
2006
Masters of Horror
Kim
Episode 2.05
2006–2009
CSI: NY
Detective Jessica Angell
25 episodes
2007
Unearthed
Sheriff Annie Flynn
Film
2007
Supernatural
Madison
Episode 2.17
2007
Big Shots
Wanda Barnes
Episode 1.04
2007
Saw IV
Addison Corday
Film
2008
Blonde and Blonder
Cat
Film
2008
Bachelor Party 2: The Last Temptation
Eva
Direct to Video
2008
Far Cry
Valerie Cardinal
Film
2009
Reverse Angle
Eve Pretson
TV Movie
2009
Dolan's Cadillac
Elizabeth
Film
2010
A Trace of Danger
Kate
TV Movie
2010
Human Target
Emma Barnes
Episodes 1.03
and 1.08
2010–2011
Covert Affairs
Liza Hearn
7 episodes
2010
Mirrors 2
Elizabeth Reigns
Direct to Video
2010
Hysteria
Jennifer
Film
2010
Hawaii Five-0
Erica Raines
Episode 1.09
2010
A Nanny for Christmas
Ally Leeds
Film
2010–2013
Lost Girl
The Morrigan
7 Episodes
2011
R.L. Stine's The Haunting Hour
Abigail
Episode 1.06
2011
Killer Mountain
Kate
TV Movie
2011
Where the Road Meets the Sun
Lisa
Film
2011
French Immersion
Jennifer Yates
Film
2012
Stolen Child
Amanda
Direct to Video
2012
Bind
Joan
Film
2012
It's Christmas, Carol
Carol Huffman
TV Movie
2012
Susie
Donna Lawrence
Film
2013
Deception
Film
References
External links