Dream Seductions: Ethan
Jump to navigation
Jump to search
Dream Seductions: Ethan



Dream Seductions: Ethan Book Cover, written by Celeste Hall

Author(s)
Celeste Hall
Series
Dream Seductions
Blood Seductions
Publisher
Ellora's Cave Publishing
Amazon Digital Services
Smashwords
Publication date
2009
Media type
Paperback
eBook
Length
210 Pages
ISBN
9781458087607
ASIN
B00507HLCI
Followed by
Dream Seductions: Kye
For other uses of the word Succubus, see Succubus (disambiguation).
For other uses of the word Incubus, see Incubus (disambiguation).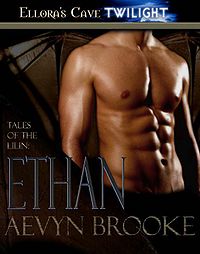 Dream Seductions: Ethan is a novel written by Celeste Hall which first appeared under the author's pseudonym Aevyn Brooke through Ellora's Cave Publishing. It is the first work in the Dream Seductions / Blood Seductions series by this author. In this work both succubi and incubi appear and the main male character Ethan is an incubus. According to the series, in this universe incubi outnumber succubi nine to one. The race as a whole are known as Lilin and are born of Lilith and sired by an angel.
Overview
Title: Dream Seductions: Ethan
Author: Celeste Hall
Published By: Ellora's Cave Publishing, Amazon Digital Services & Smashwords
Length: 210 Pages
Format: Paperback & eBook
ASIN: B00507HLCI
ISBN: 9781458087607
ISBN-10: 1461170613 (Paperback)
ISBN-13: 978-1461170617 (Paperback)
Publishing Date: 2009
Reissue Date: April 30, 2011
Other Works in this Series on SuccuWiki
Plot Summary
Be careful what you dream...
Ethan knows that his entire race hovers on the brink of extinction. Strict laws that have protected their species are now being challenged. Laws created to prevent demons and humans from consorting outside of the Dream. But there is something about Madison that draws him - despite the consequences.
Madison Gray was hired to do a job, but all she can think about are the erotic dreams she keeps having about her new employer. To make matters worse, he keeps looking at her as if he knows exactly what she's considering.
Book Review
The following review was first published by Tera on her blog, A Succubi's Tale on July 3rd, 2011

Madison Gray is a woman looking for love. The same love that she saw her parents have, but she has only been disappointed and devastated by the men she has met in her past. Save one. She met Ethan Cox (yes I know the double entendre in that name thank you) a long time ago and since that first meeting he's been in her dreams. But she knows full well that being a plain woman means that she has no chance with him and resigns herself to enjoying her dreams as much as she can.
Ethan we discover is an Incubus. While his human form is very much the stuff of fantasy, his incubus form is, as you might expect, slightly demonic in nature. He is alone in this world having been pushed out of his covey for killing a vampire in the past.
There is an ongoing battle between vampires and incubi and succubi in which the vampires do not want them to exist. As a result they search them out and have been killing them one by one. As a result of this, there are few succubi left in the world and they are becoming fewer still.
The powers of the incubi and succubi are centered upon feeding on human beings, but on their sexual emotions and energies. They do not kill humans because negative emotions drain them and cause them pain over time.
The story revolves around Ethan trying to resist his urges and at the same time have Madison trust him, but as that slowly moves forwards, Ethan's past comes to haunt him, threaten Madison, and might result in the deaths of the covey he still has a connection to.
I liked the story overall. The writing was clear and neat, the story was engrossing and the background of the Succubi and Incubi in the story I thought made a lot of sense and in doing so, made the story more "real."
From what I have seen of the other two books in the series, they deal with the other two incubi that, at the time of this story, are still alive in Ethan's covey.
Which brings me the characters in the story…
Ethan was, I thought, well written and played in the story. He wasn't over the top, he had his own doubts and fears, but when he made a decision, he kept to it which I think made him a being with a sense of honour. Something that isn't seen enough in stories like this when Incubi appear.
Madison had a lot of internal monologuing in the story which while explaining why she was the was she was, didn't push the story ahead all of the time. I wonder if the time spent going over the same flaws and fears in her character wouldn't have been better served in expanding the universe a bit further than it was.
The two other Incubi in the series, Kye and Rico, honestly were not fleshed out as well as Ethan was. Now that is understandable because they were secondary characters, but I would have liked to know more about them and their covey than was revealed.
And that brings us to Ayleth, the Succubus of the story. I have a problem with her being described as having porcelain white skin, it always makes me think of vampires, which she isn't, but otherwise the red hair, attitude and her succubus form, when we see it, I think are a good match otherwise for a succubus. Her attitude, as flighty as it is at times, is a bit much. However, the realization of the situation they are all in, and what her fears are, make that impossible to avoid in the story.
So, overall I liked the story, do want to read the other books in the series and I am hoping that it is not too long before they become available as well.
I'm giving this book four and a half pitchforks out of five.
I would have liked more about the origins of the succubi and incubi, I would have liked to see Ayleth using her powers at some point in the story, and I would have liked to have a bit more on the hierarchy of the race itself…
I mean, nine incubi for one succubus?
Oh my.
External Links