Devilish Desires (eBook)
Jump to navigation
Jump to search
Devilish Desires

Devilish Desires eBook Cover,
written by Monica-Jay Allen
Author(s)
Monica-Jay Allen
Publisher
Amazon Digital Services
Publication date
December 11, 2015
Media type
eBook
Length
36 Pages
ASIN
B01BR2Q7LU
For other uses of the word Succubus, see Succubus (disambiguation).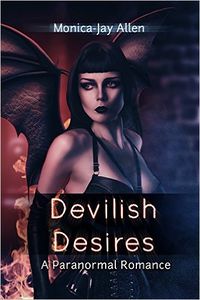 Devilish Desires is an eBook written by Monica-Jay Allen. In this work the character Rica is a Succubus.
Overview
Title: Devilish Desires
Author: Monica-Jay Allen
Published By: Amazon Digital Services
Length: 36 Pages
Format: eBook
ASIN: B01BR2Q7LU
Publishing Date: December 11, 2015
Plot Summary
Prince Leandro is living in a world where humans have to be wary of magical creatures, witches, and demon-like creatures. One such lives next to Leandro's own castle. She is a succubus, a demon-like woman with a tail and horns and a sexual hunger that could kill. She is determined to take away everything that Leandro holds dear; his soon to be throne, his life and the lives of those whom he cares about most. Can anything be done to combat this evil temptress? Will Leandro simply fall prey to her clutches like many before him and allow her evil beauty to consume him?
Book Review
The following review was originally published by Tera on her Blog, A Succubi's Tale on June 19, 2016

Leandro finds himself confronted by a succubus that desires one thing from him. The encounter ends with neither of them getting what they want, exactly and Leandro's life changes and not for the better. A long journey unfolds with the help of a dear friend and the interference of the succubus. But a gamble taken might tip the scales, but the cost may be more than Leandro is willing to pay.
The work is a mixture of an adventure, coming of age, hidden love, and questing which work well together overall. Leandro and Kylie, the two main characters, are really quite a lot of fun when they are together in that there is a connection between them, but neither of them are really quite able to express that. Leandro starts out being somewhat innocent, but his encounter with the succubus changes his life, his connection to those around him, and in doing so his personality changes. In some ways, the same can be said about Kylie, but from the perspective of her moving from being there to being something more. The twin paths as they unfold are really well done and I liked that aspect of the work.
The succubus, Rica, is somewhat of a stereotypical succubus in that all she seems to really care about is having sex with men, specifically Leandro. She's "evil" but why, or how, really isn't explored very much. Rica's scenes are focused upon her sexuality, how Leandro responds to that, and then what her reactions are. There's not much told about why Rica makes the decision that she wants Leandro save that he "made her feel different" and that seems a bit thin as a reason. I would have liked to know more about Rica, perhaps to see things from her perspective as the story unfolded more.
Save for her initial appearance, a fleeting tease, and once more at the climax of the work, Rica isn't very present in the story, even if she is important to Leandro and Kylie's stories. At times she seems a bit like an afterthought, though she really isn't considering what she has done to Leandro and the decision that Kylie makes. The other missing part is at the end of the story, Kylie does something and it isn't told what happens to Rica in the aftermath. Much else is told, but that dangling plot line isn't and it is a rather strong presence in the conclusion.
The erotica is three hot flashes, the last I felt being more focused and enjoyable than the first two were. Considering what that last bit of erotica meant, it needed to be so and I was happy to see it unfold. The scenes with Rica are interesting, mainly for her comments and what happens to her, but there is a slight touch of succubus mind control that I would have liked to see brought out more than it was.
The writing is quite good, though there are a few minor spelling mistakes here and there, and at least one conversation is a little confusing as the words, if they were spoken out loud, just seemed odd. While the main story, that of Leandro is told, there are a number of subplots that started out, but didn't come to their conclusion. The most telling one being about Rica herself. Perhaps the author might have been well served to just tie up that last loose end for the sake of completeness as the ending wraps up the story well otherwise.
Three and a half out of five pitchforks.
Overall a good coming of age story with two main characters that are told well and have their own stories to tell. There are some points in the story not tied up at the end, there's one major question never answered as well. A story that reads very much like a anime series adventure in a way but also offers something more.
External Links