Immortal Possession (eBook)
Jump to navigation
Jump to search
Immortal Possession
Desire Eternal

Immortal Possession eBook Cover,
written by Louisa Crane
Author(s)
Louisa Crane
Series
Desire Eternal
Publisher
Ivory Gate Publishing
Publication date
April 26, 2015
Media type
eBook
Length
62 Pages
ASIN
B00WQINK2O
Followed by
Lick of the Flame
For other uses of the word Succubus, see Succubus (disambiguation).
For other uses of the word Incubus, see Incubus (disambiguation).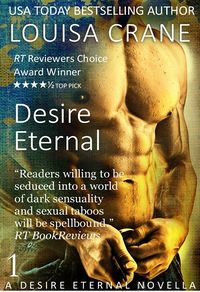 Immortal Possession, originally published as Desire Eternal is an eBook written by Louisa Crane. It is the first work in the Desire Eternal series by this author. In this work the character Lili is a Succubus.
Overview
Title: Desire Eternal / Immortal Possession
Author: Louisa Crane
Published By: Ivory Gate Publishing
Length: 62 Pages
Format: eBook
ASIN: B00WQINK2O
Publishing Date: April 26, 2015
Other Works in this Series on SuccuWiki
Plot Summary
Nestled in a deep mountain valley is the ancient and mysterious Castle of the Hidden Grotto, home to four exquisitely beautiful immortals who captivate and ravish their human visitors, fulfilling their wickedest romantic fantasies, their most secret hungers...
Two of those immortals, Elic and Lili, share a centuries-old love story that can never be consummated, since his physiology prevents him from making love to his own kind. It is the castle's human houseguests who satisfy the couple's unquenchable lust. Elic accepts Lili's need for sexual sustenance, but he seethes with jealousy when she seems a bit too infatuated with handsome Swedish tennis star Viktor Larsson. Thinking to give her a taste of her own medicine, Elic transforms into a woman to lure Larsson into mind-blowing sex, then turns back into a male to entice Larsson's beautiful fiancée--only to have second thoughts after it's too late to undo what he started.
Book Review
At the time of this article's entry in the SuccuWiki, no review was available. Tera has this work on her reading list and will review it shortly.
External Links