Demon Familiar (eBook)
Jump to navigation
Jump to search
Demon Familiar

Demon Familiar Original eBook Cover,
written by Jory Strong
Author(s)
Jory Strong
Publisher
Ellora's Cave Publishing (Original)
Amazon Digital Services (Reissue)
Smashwords (Reissue)
Publication date
September 2011(Original)
December 5, 2017 (Reissue)
Media type
eBook
Length
120 Pages (Original)
212 Pages (Reissue)
ISBN
9781419936609 (Original)
9781370167340 (Reissue)
ASIN
B077YCF7L3 (Reissue)
For other uses of the word Succubus, see Succubus (disambiguation).
For other uses of the word Incubus, see Incubus (disambiguation).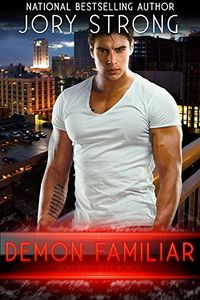 Demon Familiar is a eBook written by Jory Strong. It is the seventh work in the Supernatural Bonds series by this author. In this work the main character of the story, Ianthe, is both Succubus and Incubus having the ability to shift between the two forms. Her incubus form being called Ian. This work has some male/male and male/female sexual themes in it.
Overview
Title: Demon Familiar
Author: Jory Strong
Published By: Ellora's Cave Publishing (Original), Amazon Digital Services (Reissue), Smashwords (Reissue)
Length: 120 Pages (Original), 212 Pages (Reissue)
Format: eBook
ASIN: B077YCF7L3 (Reissue)
IBSN: 9781419936609 (Original), 9781370167340 (Reissue)
Publishing Date: September 2011, December 5, 2017 (Reissue)
Plot Summary
Pulled from the void by a binding spell, demon essence becomes mortal-familiar, and Ianthe forms, yielding to her preference for the female shape. She longs to live a human life, to love as a human, and while she's escaped the dark realm and the lord she called master, she can't escape her nature.
Incubus, succubus, Ianthe is able to shift between male and female forms, though both aspects need to be fed. She could have any man, but it's Homicide Detective Miguel Torres she wants, the man who unknowingly summoned and bound her. Their attraction is intense, immediate, and Miguel believes he'll never want another—until he meets Ian, Ianthe's mysterious twin.
Attempting to withstand needs and urges denied since childhood, Miguel buries himself in Ianthe's lush body as he battles his attraction to Ian. Then drowns in shame when he succumbs to it—only to have the murder of a gay teen force him to revisit the past…before he loses his future.
Book Review
The following review was originally published by Tera on her Blog, A Succubi's Tale on April 8th, 2012

The story is, at least to me, a fascinating one. It is the duality of what Succubi and Incubi are in one interpretation, that being a single being that can take both female and male forms and switch between the two of them at will… That's something that hasn't been written about very much and is a refreshing change of story ideas to me.
Miguel is a police detective in a world where supernatural beings exist side by side with humanity. They look like humans, they have jobs and lives much like humans, but they also have to deal with their supernatural abilities which can make things interesting at the least and troublesome in the extreme. His friends are supernatural or supernatural/human mixes, though he is not fully aware of all that goes on around him until he becomes involved with Ianthe.
Ianthe is a Succubus. She has been in this world before and forced into doing some evil things by her master at that time, but she has broken free and Miguel accidentally summons her. It turns out that only he could have because of the needs he has within him and what Ianthe is.
Ianthe is both male and female. Incubus and Succubus. And she is exactly what Miguel needs in order to find happiness in his life. Tat realization takes some time and Ianthe and her male form Ian make things more complicated. Miguel's friends also doubt Ianthe's promise that she does not want to hurt him and that makes things more complicated still, though eventually she does find friends and defenders that if not support her, at least understand her.
There are male/male and male/female sexual situations of course, but they are not the point of the story. Of course they are hot and need to be there to move the story along, but the story is not one sex scene after the next.
It is a thoughtful exploration of what it means to know oneself. Who you are, what you are, and why you are.
That's cryptic, but needs to be as the story is so focused on that theme that revealing more of it would be doing a disservice to the work…
I give it four and a half pitchforks out of five.
The one thing that I miss in the work is that Ianthe in both forms has no horns or tail. That's not much to be disappointed in, and really other than that the work is enthralling, well written and I think well worth reading for anyone that wants to see another view of Succubi and Incubi that isn't what you would expect…
External Links