Come To Me (Novel)
Jump to navigation
Jump to search
Come to Me

Come to Me Book Cover,
written by Lisa Cach
Author(s)
Lisa Cach
Publisher
Love Spell
Amazon Digital Services
Smashwords
Publication date
September 7, 2004
December 2, 2012 (Reissue)
Media type
Mass Market Paperback & eBook
Length
326 Pages
ISBN
978-0505525208
ASIN
B00AH2LJ3S
Followed by
Dream of Me
For other uses of the word Succubus, see Succubus (disambiguation).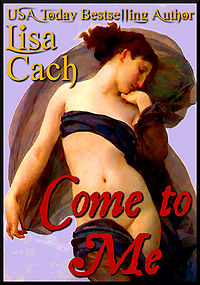 Come to Me is a novel written by Lisa Cach. In this work the character Samira is a Succubus.
Overview
Title: Come to Me
Author: Lisa Cach
Published By: Love Spell & Amazon Digital Services & Smashwords
Length: 326 Pages
Format: Mass Market Paperback & eBook
ASIN: B00AH2LJ3S
ISBN-10: 0505525208
ISBN-13: 978-0505525208
ISBN: 9781301831418 (eBook)
Publishing Date: September 7, 2004
December 2, 2012 (Reissue)
Other Works in this Series on SuccuWiki
Plot Summary
Samira was the lowliest creature of the Night World: a mere succubus, a winged spirit bringing dreams of passion to sleeping men. She knew every wicked wish that lurked in their hearts, and yet she had never felt the touch of a man's loving hand. Nor had she wanted to... until now.
Shattered by war and banished to a crumbling fortress, Nicolae turned to the dark, forbidden arts. When his conjuring summoned Samira, he sought to use her as a tool to oust the invader from his lands and regain all that he had lost. But when she arrives on his doorstep the next night in human form, all her powers stripped from her, he thinks he has no use for her whatsoever.
A creature of Night and a ruined prince: one called and the other came. What happened next would change their worlds forever.
Book Review
The following review is from the Amazon.com listing in the External Links below:
5 out of 5 stars
The paranormal romance for people who don't like paranormal romance
Reviewed On: July 25, 2005
By shereads
I added Lisa Cach to my list of must-read romance authors by random chance, having run out of new books by my favorite authors. The story intrigued me. (If you like dark heros and sensual love scenes, can you go far wrong with a demon who seduces women in their dreams?)
Not having read Cach before, I was ready to skip some pages if there was too much of what usually bothers me about the paranormal genre: the overly detailed descriptions of paranormal culture, with all the mechanics of how they find their destined life mates, etc. I appreciate the creativity that goes into inventing a paranormal world, but for me it gets in the way of the male-female relationship, as with historical romances that try to teach a history lesson.
Give me the romance of the setting, but don't make me pass a pop quiz on shapeshifter culture or the Napoleonic wars.
Thank you, Lisa Cach, for providing magic instead of a lesson.
This novel and its companion book, "Dream of Me," provide just enough background to make us feel some sympathy for Cach's demons and succubi. They seem so powerful by mortal standards, but they are slaves to higher powers. They court danger when their behavior toward humans deviates from the rule book. They sometimes envy the sunlit world. An understanding of their dilemma gives these characters the necessary vulnerability to make us want them to find love.
Heaven knows, they have plenty of lust in their lives. But no love, unless they risk their immortality.
The sex scenes sizzle, and eventually lead to touching love scenes. I'm delighted with Cach's sense of humor, which had me smiling when I least expected to and even made me laugh out loud a time or two. In a sunless world of unloved demons, touches of humor kept me reading and made me expect to be rewarded in the end.
I've since read The Mermaid of Penperro, which I absolutely loved, and have some of Cach's older novels on order. "Mermaid," like "Come To Me" and "Dream of Me," is essentially a sensual romance with well-developed characters faced caught up in conflicts that can only be resolved when sex accepts love as its other half. There's just enough otherworldly magic to make the ride fun.
External Links