Cherry Creek (eBook)
Jump to navigation
Jump to search
Cherry Creek

Cherry Creek eBook Cover,
written by Dani Matthews
Author(s)
Dani Matthews
Series
Cherry Creek
Publisher
Dani Matthews
Publication date
September 1, 2014
Media type
eBook
Length
222 Pages
ASIN
B00N8AR2DW
Followed by
The Demon Within
For other uses of the word Succubus, see Succubus (disambiguation).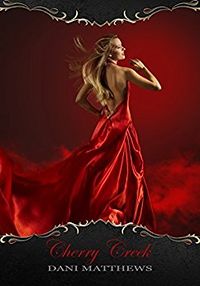 Cherry Creek is an eBook written by Dani Matthews. It is the first work in the Cherry Creek series by this author. In this work one of the main characters is a Succubus.
Overview
Title: Cherry Creek
Author: Dani Matthews
Published By: Dani Matthews
Length: 222 Pages
Format: eBook
ASIN: B00N8AR2DW
Publishing Date: September 1, 2014
Other Works in this Series on SuccuWiki
Plot Summary
I have high hopes for the summer before my senior year. That is I have high hopes until my ex-boyfriend goes insane and tries to kill me with his bare hands. Then, as if that's not strange enough, an uncle I never knew I had shows up mere days after the attack. Much to my dismay, he quickly receives my mom's permission to whisk me away to Cherry Creek, Minnesota. Living in a new town away from my ex and all the rumors actually begins to sound appealing until my mom insists on staying behind. She says she has "things" that she needs to take care of, but she refuses to elaborate. I'm already suspicious of my newfound uncle, but when my mom disappears shortly after I leave town, I know my uncle is up to something. With no way to contact my mom, I'm left to navigate this new life on my own while my questions keep piling up.
Who is my uncle really? I can sense he's hiding something from me. Something big. I get the feeling he doesn't want me to find my mom, and I soon begin to wonder if he has something to do with her disappearance.
My uncle isn't the only one who has me doubting who he is. There's also my cousin Roman. He's my age and unlike anyone I've ever met before. There's something unsettling about him and the way he tries to push me outside my comfort zone. He makes me uneasy, especially since I am feeling a strong attraction to him that I shouldn't be feeling. In fact, I'm noticing that I'm feeling an instant attraction to a number of guys these days. The attraction is powerful and so much stronger than I've ever experienced before. I know I shouldn't crave their touch by simply being in their presence, but it's as if they spellbind me when I'm around them. I'm usually quite level-headed, but when I find it a struggle to keep my hands to myself, I realize this sway they have over me isn't normal. Nothing in Cherry Creek seems normal.
Things are not adding up, and I'm getting the eerie feeling that I'm changing in some way. Finding answers becomes increasingly difficult when it's apparent someone is determined to keep me in the dark. Something is going on, and I seem to be caught up in the middle of it. When the truth comes out about who and what I am, will I be able to handle it?
Book Review
At the time of this article's entry in the SuccuWiki, no review was available. Tera has this work on her reading list and will review it shortly.
External Links