By Her Own Hand
Jump to navigation
Jump to search
By Her Own Hand



By Her Own Hand Original eBook Cover, written by Freya Duquesne

Author(s)
Freya Duquesne
Series
Order of Lilith
Publisher
de Pizan Books
Publication date
July 21, 2011
Media type
eBook
Length
103 Pages
ISBN
9781466068933
ASIN
B005DZZQ4M
Followed by
Dress Rehearsal (Never Released)
For other uses of the word Succubus, see Succubus (disambiguation).
For other uses of the word Incubus, see Incubus (disambiguation).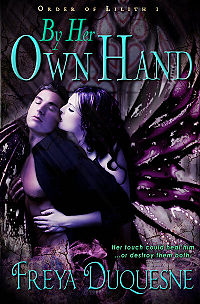 By Her Own Hand is an eBook written by Freya Duquesne. It is the first work in the Order of Lilith series by this author. In this work the character Kamari is a Succubus, and the character Daegal is an Incubus. They are part of a race called Lilim in this series the characters have a madness within them that eventually turns them into dark beings called Maron which they are trying to avoid becoming while bringing pleasure through their powers to others. The work was to be followed by Dress Rehearsal, but this was never released.
Overview
Title: By Her Own Hand
Author: Freya Duquesne
Published By: de Pizan Books
Length: 103 Pages
Format: eBook
ASIN: B005DZZQ4M
IBSN: 9781466068933
Publishing Date: July 21, 2011
Other Works in this Series on SuccuWiki
Dress Rehearsal (Never Released)
Plot Summary
In her world, there was no such thing as "forgive and forget..."
Miss Anne Morely is far more intelligent than is good for the daughter of an English gentleman in 1815. But being smart wasn't enough to prevent her from making a stupid error in judgment that cost her reputation. Now, to keep wagging tongues silent, she hides behind a prim and mousy facade and pines after the earnest and scholarly clergyman, Gilbert Thorpe. He has captured her heart, but he doesn't see beyond her dowdy exterior to the passionate, beautiful woman she really is. She knows she doesn't dare risk more scandal by pursuing him, but knowing can't lessen her desire. It's that unrequited longing that brings her to the attention of the immortal dream healers known as the Lilim.
He knows far too much about regretting the past...
Newly-graduated succubus, Kamari may have a goddess' blessing, but it doesn't seem to be helping her much in her fledgling partnership with the moody and enigmatic incubus, Daegal. There are rumors about him--that he has starved himself for five years from all sexual energy, and that he's a brilliant dream worker who killed his own partner rather than let her succumb to the blood madness that turns Lilim into the demonic Maron. But all Kamari knows for certain is that whatever happened wounded him far deeper than any blood madness ever could. And she would do anything to help him heal, if only he would let her touch him.
An erotic grace brings healing and release...
Together, Kamari and Daegal create erotic dreams to help Miss Morely first accept herself and take sexual pleasure in her own body and then to bring pleasure to Mr. Thorpe. But as their passion emerges from the mists of dreams into the light of reality, it sets ablaze once more the scandal from Miss Morely's past. The Lilim pair fight against the influence of the Maron and Mr. Thorpe's aversion to scandal in an effort to bring the couple together. Only grace is strong enough to overcome the obstacles before them. But time is running short--and Daegal's own shame and regrets threaten to jeopardize the success of the assignment and deliver them all into the hands of his greatest enemy--and former love.
Book Review
At the time of this article's entry in the SuccuWiki, no review was available. Tera has purchased this work and will review it as soon as possible.
External Links