Bonds of Fire (eBook)
Jump to navigation
Jump to search
Bonds of Fire

Bonds of Fire Original Book Cover,
written by T. A. Grey
Author(s)
T. A. Grey
Publisher
Grey Ink Press
Publication date
January 29, 2012
Media type
eBook
Paperback
Length
310 Pages
ISBN
9781465888600 (eBook)
978-1480145160 (Paperback)
ASIN
B0073GWTR6 (eBook)
Preceded by
Chains of Frost
Followed by
Ties That Bind
For other uses of the word Succubus, see Succubus (disambiguation).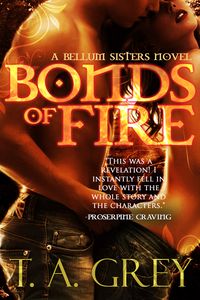 Bonds of Fire is a novel written by T. A. Grey. It is the second work in the Bellum Sisters series by this author. In this work the character Willow Bellum is a Succubus.
Overview
Title: Bonds of Fire
Author: T. A. Grey
Published By: Grey Ink Press
Length: 310 Pages
Format: eBook & Paperback
ASIN: B0073GWTR6 (eBook)
ISBN: 9781465888600 (eBook)
ISBN-10: 1480145165 (Paperback)
ISBN-13: 978-1480145160 (Paperback)
Publishing Date: January 29, 2012
Other Works in this Series on SuccuWiki
Plot Summary
Three Fates. Three Sisters.
Hotheaded succubus Willow Bellum doesn't take kindly to being given to the Alpha of the shapeshifters. When the will from her dead father puts Willow under the Alpha's protection, she runs. Yet no matter how hard or fast she runs, he always seems to catch her. And with each stolen moment together, Willow finds herself relenting to his quick smile and passionate kisses more and more.
When the Alpha finally captures his feisty succubus, he proceeds with a full-on seduction meant to weaken her defenses. Alpha Lyonis Keelan hasn't made his way to position of Alpha lightly and Willow's defiance to his touch only makes him more determined to win her. Because whether she wants it or not, Willow is his mate and he plans to keep her no matter what.
As their love struggles to take hold, an ancient demon stalks Willow. Unable to rest until it sees her dead, Willow and Lyonis must stand together or risk losing everything.
Book Review
At the time of this article's entry in the SuccuWiki, no review was available. Tera has this work on her reading list and will review it shortly.
External Links