Blue Violet: The Flame
Jump to navigation
Jump to search
Blue Violet: The Flame

Blue Violet: The Flame Book Cover,
written by Scarlet Clearwater
Author(s)
Scarlet Clearwater
Publisher
CreateSpace
Publication date
April 14, 2011
Media type
Paperback
eBook
Length
332 Pages
ISBN
978-1456528829 (Paperback)
Followed by
Blue Violet
For other uses of the word Succubus, see Succubus (disambiguation).
For other uses of the word Incubus, see Incubus (disambiguation).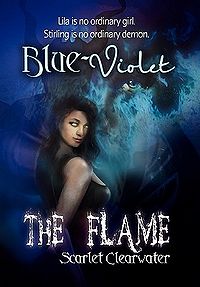 Blue Violet: The Flame is a novel written by Scarlet Clearwater. In this work the character Lila is a Succubus and the character Stirling is an Incubus.
Overview
Title: Blue Violet: The Flame
Author: Scarlet Clearwater
Published By: CreateSpace
Length: 332 Pages
Format: eBook & Paperback
ISBN-10: 1456528823 (Paperback)
ISBN-13: 978-1456528829 (Paperback)
Publishing Date: April 14, 2011
Plot Summary
Life as a succubus is hell. At least that's what Lila Johnson is beginning to find out. It's just a matter of days before she has to seduce and drain another man's life force. The seduction part is easy. The draining? Not so much.
After Lila accidentally kills a man, she is out on the hunt to find a male of her species. Bonding with him is the only way to staunch her curse. But after eight years of searching, she is burning out. Literally.
Her potential relief comes by way of an arrogant, too-sexy-for-his-own-good, incubus named, Stirling. Despite the fact that Lila is the most stunning demon he's ever pinned beneath him, and he's pinned down quite a few in the last hundred years, he has no intention of settling down. Not when his master, Gaelon, sends him around the globe, running maniacal errands.
Soon a plot unfolds of Gaelon's plot to exterminate Stirling and Lila's race. Together, they must decide whether or not to bond before they declare war. Because bonding for them could mean life or death for everyone they care about.
Book Review
At the time of this article's entry in the SuccuWiki, no review was available. Tera has this work on her reading list and will review it shortly.
External Links