Bloodlines: Lillith (eBook)
Jump to navigation
Jump to search
Bloodlines: Lillith

Bloodlines: Lillith eBook Cover,
written by Jaeger Mitchells
Author(s)
Jaeger Mitchells
Series
Bloodlines
Publisher
Amazon Digital Services
Publication date
November 27, 2018 (Original)
May 2, 2019 (Revised)
Media type
eBook
Length
218 Pages
ASIN
B07KXJTV6X (Original)
B07RD7J122 (Revised)
For other uses of the word Succubus, see Succubus (disambiguation).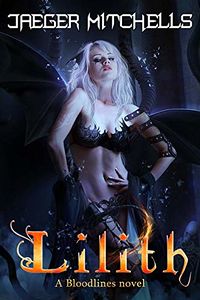 Bloodlines: Lillith is an eBook written by Jaeger Mitchells. It is the first work in the Bloodlines series by this author. In this work one of the characters is a Succubus.
Overview
Title: Bloodlines: Lillith
Author: Jaeger Mitchells
Published By: Amazon Digital Services
Length: 218 Pages
Format: eBook
ASIN: B07KXJTV6X (Original), B07RD7J122 (Revised)
Publishing Date: November 27, 2018 (Original), May 2, 2019 (Revised)
Other Works in this Series on SuccuWiki
Plot Summary
The only way Kane knew how to get by was to hunt monsters and sell their body parts to the Guild. The only reason he needed the money? To pay off Katya's debt to the Madame. Life had other plans. The demonic entity in him, Astaroth, awakened and threatened to destroy everything he cared for. But the demon's first point of business? Killing Lilith, the being that denied him love. Thrust into an invasion on his homeland, the odds were against Kane. Who was behind the war, and why were they targeting him? Finding out would be the last thing he wanted.
Book Review
At the time of this article's entry in the SuccuWiki, no review was available. Tera has this work on her reading list and will review it shortly.
External Links